William D. Cochran, director of School Ministry with the LCMS Office of National Mission since 2002, will receive an honorary Doctor of Laws degree from Concordia University, Ann Arbor, Mich., during the school's spring commencement May 19.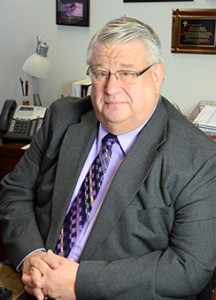 The honor "recognizes some of the many ways by which the Lord has worked through you to bless so many others," wrote the university's Interim President, Rev. Dr. Patrick T. Ferry, in a Feb. 21 letter to Cochran.
Earlier this year Lutheran Education Association (LEA) identified Cochran as a recipient of its Christus Magister Award for 2013. The award is LEA's top honor and has been presented since 1965 to Lutheran educators who have made significant contributions to Lutheran education.
Cochran will be presented with the LEA award April 5 in the LCMS International Center chapel and also will be recognized at LEA's 11th triennial convocation Oct. 24-26 in Milwaukee.
He also was named this year as an "Honorary Lifetime Member" of the Association of Lutheran Secondary Schools, which included a congratulatory plaque and a St. Louis Cardinals baseball jersey bearing his name and the number "45" — the number of years he has served the LCMS.
Cochran — a longtime Cardinals fan and baseball-card enthusiast — plans to retire June 30.
The Rev. Bart Day, executive director of the LCMS Office of National Mission, described Cochran as "a tremendous gift to the church. He has done it all: classroom teacher, school administrator, district education executive, head of schools for the LCMS.
"Bill is an encourager," Day told Reporter. "He has been continually out in the field visiting with schools, faculty and staff. He always finds the positive, he always builds up and pushes for better things in the future."
Being "deeply committed to Lutheran education that is academically exemplary and is thoroughly Lutheran in confession and practice," Cochran has fostered programs that have improved technology in schools, contributed toward the professional development of school administrators and strengthened relationships between schools and congregations, according to Day.
"Bill is to be commended for his faithful service and the vision and direction he has established. School ministry will thrive in the future because of the foundation he helped to build."
Since his 1968 graduation from Concordia Teacher's College (now Concordia University, Nebraska) in Seward, Neb., Cochran has served as an elementary school teacher (at Zion Lutheran School in Hemlock, Mich., and Holy Cross Lutheran School in Collinsville, Ill.), a school principal (at Good Shepherd Lutheran School, Collinsville, and Christ Community Lutheran School, Kirkwood, Mo.) and superintendent of Lutheran schools for the LCMS Eastern District. He also holds a master's degree and administrative certificate from Southern Illinois University, Edwardsville, Ill.
He was co-founder of programs such as "School Leadership and Development," "Leadership with Purpose" and three funding academies. He authored "Leadership and How to Start a Lutheran School" for the LCMS Administrator's Handbook and co-authored "School Leadership and Mentoring."
Cochran told Reporter he's "excited" and "humbled" to be recognized by the university. "I appreciate the honor … and I certainly thank God for the gifts He's given me and the 45 years of ministry that I've served."
He said he is thankful that, as director of LCMS schools, he's had "the opportunity to work with all of our schools who actually do a very good job of sharing the Gospel on a daily basis."
He added that he's "really enjoyed all the people I've worked with — Terry Schmidt, Perry Bresemann, Leroy Wilke and Bart Day — and especially the administrative assistants and all the people at the International Center."
And while he's not sure what he'll do in retirement, he said he'll be "waiting for whatever God has in store" but is hoping it will be school-related.
Updated March 27, 2013