Longtime Lutheran leader, author, speaker and humorist Dr. Richard "Rich" Bimler says his latest book, Joyfully Aging: A Christian's Guide, released last summer by Concordia Publishing House, is intended to help people — including himself — "celebrate the gift of aging."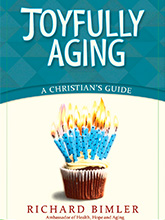 Bimler, now 72, says he's convinced that God allows us to live longer so that we can use that time to serve others. As an older adult, if you're wondering if you still have a mission and a purpose in life, he advises, "Check your breathing. If you're breathing, then the Lord has exciting things in mind for you!"
These days he's serving part time as "ambassador of health, hope and aging" — or "AH-HA!" — with Lutheran Life Communities in Arlington Heights, Ill. He's also the "Rich" half of Rich and Charlie Resources — at richandcharlie.com — a Web-based ministry that offers "encouraging words to those who serve." The other half is the Rev. Dr. Charles S. Mueller Sr.
Bimler's previous service includes 15 years (1991-2006) as president and CEO of Wheat Ridge Ministries, Itasca, Ill., and 10 years (1979-89) as executive director of the former LCMS Board for Youth Services.
He said he hopes the book helps those who are getting older realize, every day, "As the Lord allows me to make it through another day, how can I serve Him by serving other people? It's kind of like, every day is a day to give away" to others.
Joyfully Aging offers lots of ideas and suggestions — including lists on how to be a "hope leader in a hopeless world," living well as you age, good things about growing older and tips for congregations that want to reach out to and engage older adults. But Bimler says he wouldn't call it a how-to book.
"As a 'Christian guide,' the book is something that maybe helps guide us on our way and doesn't tell us what to do," he said. "The grace-filled life in Christ says 'Hey, it's not that we've got to do this, it's that we get to do this.' How can we push each other to accept and affirm the fact that our Lord is with us, even when we're grouches and think of aging as a disease?
"If anybody can help younger people, it's older people who've lived through suffering — expectations, failure, dysfunction, been through it all and that's life. It's not that everything's fine — everything [in life] isn't fine — but everything is fine in Jesus Christ. And that's what keeps us going."
To order Joyfully Aging: A Christian's Guide ($12.99, plus shipping, item no. 124408), call CPH at 800-325-3040 or visit cph.org.