By Kim Plummer Krull

Will Luther, Moses and Isaiah be at school, too?

Callers didn't necessarily ask about the K-9 Parish Comfort Dogs by their individual names, but that's who they meant when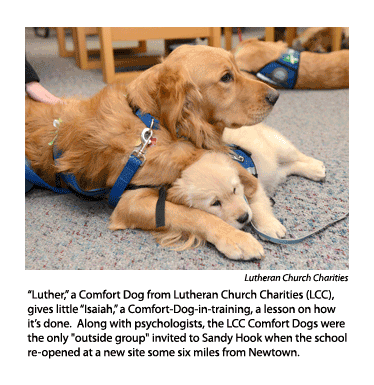 they contacted Sandy Hook Elementary School as classes prepared to resume on Thursday, Jan. 3, for the first time since the horrific shootings in Newtown, Conn.

"Calls were coming in that students were not going to come to school unless the Comfort Dogs were there, too," said Tim Hetzner, president of Lutheran Church Charities (LCC), the LCMS Recognized Service Organization that founded and coordinates the caring canine ministry.

Along with psychologists, the LCC Comfort Dogs were the only "outside group," Hetzner said, invited to Sandy Hook when the school re-opened at a new site, a former middle school in Monroe, Conn., about six miles from Newtown.

Ten dogs and their handlers arrived Jan. 1 in Newtown. It was a return trip for many of the four-legged disaster-response workers, who first visited the area the day after the Dec. 14 massacre of 20 first-graders and six adults.

"We got here before the kids and teachers started arriving," said Hetzner, during a brief telephone interview in the school hallway.

Many students broke into smiles, he said, when they spotted the familiar furry faces. A psychologist and a Comfort Dog were working as a duo, spen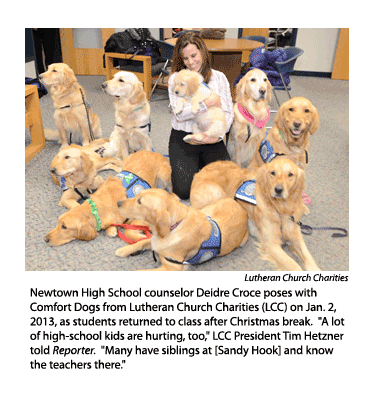 ding time with groups of four or five students at a time.

The psychologists "helped the kids process what they're going through," Hetzner said, while the huggable hounds added a gentle, calming presence.

Before visiting Sandy Hook, the Comfort Dogs also were invited to spend time with students at Newtown High School when classes resumed on Wednesday, Jan. 2.

"A lot of high-school kids are hurting, too," Hetzner said. "Many have siblings at [Sandy Hook] and know the teachers there. Those kids are old enough to understand what happened."
To watch a YouTube video from LCC, "Beauty Came Out of This Horror," featuring an interview with Newtown High School counselor Deidre Croce, click here. In the video, Croce talks about how the dogs have helped comfort Newtown residents, especially the children.

After classes dismissed at Sandy Hook, the Comfort Dogs were scheduled for an evening stop at Christ the King Lutheran Church in Newtown. The community was invited to drop by, Hetzner said, much like the LCC group's last visit immediately after the shootings.

"Wherever we travel, we always stop at the Lutheran churches," Hetzner said.

Also on tap were return visits to both the elementary and high schools throughout the school day on Friday, Jan. 4.

LCC started the Comfort Dog ministry in 2008 and often works closely with LCMS Disaster Response, including after the tornadoes in Joplin, Mo., and in the wake of Hurricane Sandy on the East Coast.

"What a blessing that this Lutheran ministry engages in mercy in the name of Christ, helping to ease suffering in its own unique way," said the Rev. Glenn F. Merritt, director of LCMS Disaster Response.

Learn more about the LCC Comfort Dog ministry at www.lutheranchurchcharities.org.

Kim Plummer Krull is a freelance writer and a member of St. Paul's Lutheran Church, Des Peres, Mo.
Posted Jan. 4, 2013 / Updated Feb. 1, 2013