By Megan Mertz
ST. LOUIS (July 25, 2013) — Delegates adopted the 11 resolutions brought by Floor Committee 1 today, the last day of the 65th Regular Convention of The Lutheran Church—Missouri Synod held here.
First up was Resolution 1-15A, "To Encourage Further Support for Campus Ministry," which was adopted with an overwhelming show of support in a vote of 755-4.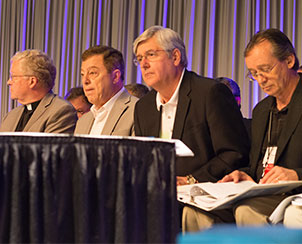 This resolution commends all those involved in campus ministry and encourages congregations and circuits to seek new opportunities on college campuses. It also resolves "that the Synod recognize and give thanks to God for the efforts of the Office of National Mission through LCMS U, and that it continue to support and encourage the further development of campus ministry wherever possible for the sake of the Gospel and the young people of the Church."
The committee then introduced Resolution 1-09A, "To Prepare LCMS Congregations and Pastors for Defense of Our Christian Faith." This resolution requests that Concordia Publishing House publish materials "to train congregational members and professional church workers on how to respond to persecution in our society and establish clear confessional proclamation of the Gospel." The resolution was approved by a 772-11 vote, with the addition of Lutheran Hour Ministries, LCMS seminaries and the Concordia University campuses to this resolve.
With 96 percent of the vote, delegates also adopted three resolutions in one motion. These included:
Resolution 1-04A to encourage church multiplication;
Resolution 1-05A to encourage joy in the making of new disciples; and
Resolution 1-08 to work together in mission through a mission best-practices policy document. This resolution, to be completed by the next convention, also resolves "that these best practices include encouragement to districts and congregations to communicate their international mission activities to the Synod's Director of Church Relations and Offices of National and International Mission for the purposes of healthy coordination and good stewardship."
Following this, Floor Committee 1 Chairman Rev. Dr. James Baneck proposed a motion to forward five of the committee's resolutions to the Office of National Mission.
"The reason this is being done is because if no action is taken, these things die," LCMS President Matthew C. Harrison said to the convention. "This tells the Office of National Mission the convention is interested to see these issues addressed by the Synod."
The five resolutions were:
1-10A, "To Develop Spanish and Multi-Lingual Capabilities in the Synod";
1-12, "To Recognize and Give Thanks for Military and Institutional Chaplains";
1-13A, "To Designate District Coordinators for Prison and Jail Ministry";
1-14, "To Advance Native American Ministry"; and
1-16, "To Encourage Captioning of All Video Materials."
This passed by a voice vote.
In another voice vote, the convention passed Resolution 1-18, "To Give Thanks for 100 Years of LCMS Work among Chinese Peoples." This resolution calls on the LCMS to give thanks for the efforts of missionaries to China and "the fruit borne of those efforts by the power of the Holy Spirit" and to pray for future work in this area of the world.
Of Floor Committee 1's 18 resolutions, only one was not addressed by the convention.