In preparation for this summer's 65th Regular LCMS Convention, a special Bible study that relates to the convention theme, "Baptized for This Moment," is expected to be available for free downloading beginning on Ash Wednesday, Feb. 13.
Authored by the Rev. Timothy Pauls of Good Shepherd Lutheran Church in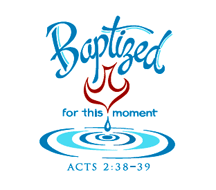 Boise, Idaho, the study delves into the joy with which baptized children of God live.
The study's five chapters — "Baptized," "Repent and Be Baptized," "Baptized for Witness," "Baptized for Mercy" and "Baptized for Life Together" — review Baptism as it's explained in Scripture; what it means to be born of the water and Spirit; the repentance, joy and security that are ours as baptized children of God; and how each of us is baptized to bear bold Witness to Christ, baptized to be about acts of Mercy for our neighbor, and baptized to live joyfully in our Life Together.
The study is considered particularly appropriate for the Lent or Easter season, and includes discussion questions as well as a leaders guide.
In the Bible study's Foreword, LCMS President Rev. Dr. Matthew C. Harrison urges all Synod congregations to make use of the Bible study.
"Use this study to dive into God's Word," Harrison writes. "Learn from it. Ponder it. Rejoice in it. The Lord blesses, and I'm confident that He will work your study of His Word for good.
"And as He does, He will prepare us all to go forth together, confident in our bold Witness to the Gospel, certain in our works of Mercy, and joyful in our Life Together. Truly, we are baptized for this moment!"
To download "Baptized for This Moment: A Bible Study," visit www.lcms.org/convention/biblestudy.
Posted Feb. 8, 2013