With Barbara A. Below
There are some deadlines and changes to be aware of as we prepare for the 2013 Synod convention.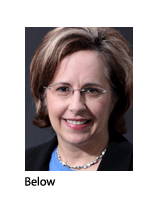 Officer elections
Of major significance for the 2013 convention is the change in the process for electing the Synod president, first vice-president, regional vice-presidents and members of the Synod Board of Directors. Nominations for these offices are from LCMS-member congregations and must be received by Feb. 20.
Nomination ballots for president and first vice-president must be mailed to auditor Brown Smith and Wallace. Nomination ballots for regional vice-presidents and Board of Directors members must be mailed to the Office of the Secretary of the Synod.
The election of the president will take place at the end of June — before the convention, which is July 20-25. The Synod secretary's office is diligently working through hundreds of voters' email addresses to make sure that all voters have email addresses or access to email, and that all those addresses are valid.
Voters for the election of the president are delegates who attended the 2012 LCMS district conventions. All district and congregation leaders are urged to help ensure that these voters for the presidential election:
are clear about their responsibilities in the presidential vote.
participate in any voting tests conducted by the Office of the Secretary to validate email addresses.
respond to any postal-mail correspondence concerning their email addresses.
immediately let the secretary of the Synod know of any change of email addresses.
make sure that adjustments are made if their spam-filter settings, firewall or mailbox prohibit their receiving critical election information.
March 2 deadline
Overtures, which are published in the Convention Workbook, must be received by the Office of the President no later than March 2. To assist in making sure that overtures are published in the Convention Workbook, it is suggested that overtures be sent to that office as soon as possible.
The president reviews all overtures and may return some for correction (Bylaw 3.1.6.2). Corrections can be made and overtures may be received by the Synod president's office by the March 2 deadline.
Convention Workbook
Due to expansion of technology and to reduce cost, fewer copies of the Convention Workbook will be printed and mailed this year. Delegates, advisory delegates, special representatives and others will receive printed copies in April or early May.
However, printed copies will not be mailed to all ordained, commissioned or emeritus rostered workers, as was done in the past. Instead, the Convention Workbook will be posted on the LCMS Convention Web page in April to view and download as desired. Hopefully, providing more convention material via electronic means will be beneficial for all involved.
As we continue to move toward July, we do so with confidence that the Lord will bless our work.
To learn more about the 2013 convention via social media, visit www.facebook.com/LCMSConvention and www.twitter.com/LCMSConvention.
Barbara A. Below is an assistant to the Synod president.
Correction: In the January Convention Corner, the last sentence of the third paragraph should have read: "As we are reminded in Acts 2:39, 'the promise is for you and for your children.' "
Posted Feb. 8, 2013