By Joe Isenhower Jr.
ST. LOUIS (July 23, 2013) — In the last hour of Tuesday's sessions at the 65th Regular Lutheran Church—Missouri Synod convention here, delegates handily approved 14 resolutions brought by Floor Committee 6 for Administration and Finance — including one that calls for a strategy to eliminate a long-standing $18 million debt.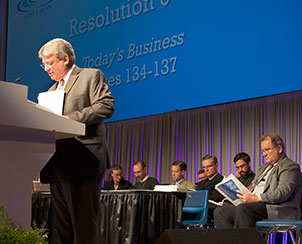 Resolution 6-01A, "To Promote Financially Healthy Universities, Seminaries and Church Workers" — adopted with more than 93 percent approval — resolved "that the convention establish a specific goal of completely eliminating the historic Concordia University System (CUS) debt of the Synod by 2017 through a special appeal," and "that the convention direct the president of the Synod in consultation with the Board of Directors of the Synod to develop and implement strategies by 2015 (1) to accomplish this historic CUS debt-elimination goal and (2) to address Synod church-worker educational debt."
Committee 6 Chairman Rev. John C. Wille, president of the LCMS South Wisconsin District, told delegates that the history of this debt goes back to a convention-authorized move of Concordia Theological Seminary from Springfield, Ill., to its current Fort Wayne, Ind., campus in the mid-1970s.
Wille said that servicing that debt currently requires nearly $3 million annually out of the unrestricted funds received by Synod from its 35 districts – about $2 million for principal and $1 million for interest payments. He also shared with delegates a comment that LCMS Chief Financial Officer Jerald Wulf made during the committee's open hearing on July 20 that the annual historic debt payment consumes 20 percent of the Synod's unrestricted budget.
Among several who spoke to the resolution from the convention floor, Board of Directors Chairman Rev. Dr. Robert T. Kuhn said that "from the Board's standpoint, having to fund this debt is taking away from the budget" that our congregations expect to fund national-level mission and ministry.
"It's a debt that we need to eliminate," LCMS President Rev. Dr. Matthew C. Harrison added.
Following the resolution's adoption, and as Harrison prepared to call up the next resolution for consideration, Pastoral Delegate Rev. Martin L. Marks of Immanuel Lutheran Church in DeKalb, Ill., reminded the assembly that "there's a mandated prayer" in the resolution's final resolve.
At Harrison's request, Marks then led the convention in that prayer for God to "send workers into the harvest" and that He would equip those in the Synod to do His work.
Delegates unanimously adopted by voice vote the Administration and Finance committee's second-priority resolution, 6-02, titled "To (Joy)fully Fund Career and GEO Missionaries."
Career missionaries are those called to serve in the mission field professionally until they accept another call or retire. GEO ("Globally Engaged in Outreach") missionaries are those who serve shorter terms, typically long enough to complete a specific project or assignment.
That resolution's resolves "give thanks to God for the 79 career and 42 GEO missionaries and their families serving throughout the world"; commend the church body's former "Board for Mission Services for developing an effective model of sustainability for calling and deploying and supporting missionaries"; "thank the 500 congregations and nearly 2,000 household partners in the LCMS who are actively and joyfully providing prayer, encouragement and direct financial support in excess of $7.6 million per year for the benefit of specific missionaries"; encourage "all congregations and LCMS households … to utilize counsel and resources available through the Mission Advancement unit of the LCMS as they plan their support of missionaries"; and ask the Synod in convention to "encourage and support the Office of International Mission to continue expanding the number of missionaries and provide the logistical support necessary to sustain them in their mission activities."
The other 12 Administration and Finance resolutions adopted today — with seven of those also passing unanimously — had to do with changes to the Synod Bylaws.
They are, in the order adopted:
Resolution 6-12A, "To Amend Bylaw 3.7.1.3 [regarding] Membership on the Concordia Plans Board."
Resolution 6-13, "To Amend Bylaws re: Removal and Filling of Vacancies of [Lutheran Church Extension Fund]  Members."
Resolution 6-14, "To Amend Bylaw 3.6.5.2.1 re: Terms of Office of LCMS Foundation Board Members."
Resolution 6-15, "To Amend Bylaws re: Removal and Filling of Vacancies of LCMS Foundation Board Members."
Resolution 6-05, "To Revise Definitions in the Handbook."
Resolution 6-06, "To Address Synod Handbook Issues re: Synodwide Corporate Entity Governing Instruments."
Resolution 6-07, "To Address Synod Handbook Issues Regarding Required Background Checks."
Resolution 6-08, "To Clarify the Appointment Process for Various Representatives and Offices."
Resolution 6-09, "To Clarify the Process for Appointment of the Executive Directors of the Offices of National and International Mission."
Resolution 6-10, "To Clarify Appointment of Chief Executives of Synodwide Corporate and Trust Entities and Executive Director of Commission on Theology and Church Relations."
Resolution 6-11A, "To Strengthen Nominations Process for Boards of Directors of Synodwide Corporate Entities."
Resolution 6-04, "To Restore the Secretary of Synod as a Voting Member of the Commission on Constitutional Matters."
Wille and Harrison noted that several of those resolutions were "cleanup" actions resulting from the many Synod Bylaw changes authorized by the 2010 Synod convention, which approved sweeping structure and governance changes for the church body.
"You know," Harrison remarked, "[for] the next convention, we won't have nearly this much Bylaw stuff."
The 2013 convention of the LCMS is meeting July 20-25 at the America's Center Convention Complex under the theme "Baptized for This Moment." Among convention participants are some 1,200 clergy and lay voting delegates.
(Updated July 29)