In Concordia Publishing House's 2013 vacation Bible school program, "Tell It on the Mountain — Where Jesus Christ is Lord," children will gather their gear and set out on an expedition to learn about God. The new VBS program is designed to teach children that, with God, it's pos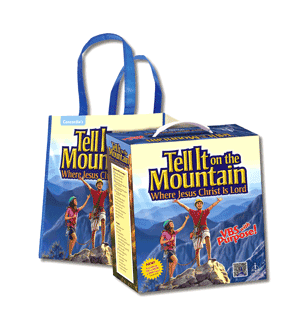 sible to scale any "mountain" of difficulties they encounter!
"All VBS programs are not alike," said CPH VBS editor Pam Nummela. "Concordia is committed to creating a VBS with purpose, and 'Tell It on the Mountain' is engaging, fun and, most importantly, it provides a backdrop for a clear presentation of the Gospel."
According to Nummela, the main goal of CPH's vacation Bible school is that after the craft glue dries, the decorations come down and the snacks are all eaten, children leave with the clear understanding of their need for a Savior and that Jesus is His name.
So, how does a mountain-climbing theme drive home the message of the Gospel?
"Like a rock face provides a secure anchor for climbers, God's Word is our rock-solid anchor for life," said Nummela. "God Himself is present in His Word, keeping us secure against the buffeting of sin, Satan and death."
God's message of salvation through Jesus, our Savior, she adds, "is one to shout out and share from the mountaintop to the four corners of the world!"
The Starter Kit ($129.99, item no. 32-1343) includes guides for directors and preschool leaders (both with CDs), publicity samples and materials for openings and closings (with an Opening Skit DVD), storytelling, music, Bible challenges, crafts, snacks and games. Also included are craft samples and a tote bag.

New to this year's VBS program are Passalong DVDs ($4.99, item no. 32-1385) with song videos as well as the audio music.
Also new are resources for pastors, including materials for getting involved with VBS and a sermon for "VBS Sunday."
"The primary emphasis of 'Tell It on the Mountain' is to help children understand that Jesus is their Lord and Savior, and that God gives them His power to share the Gospel message," explains Nummela. "VBS is one of the best ways for a congregation and their kids to engage in outreach within its community, and this VBS helps ensure that when those children and families come to your congregation, they get to know their Savior."
Vacation Bible school offerings may be sent to the "Ready Now: Disaster Response Fund," which enables the LCMS to respond quickly to those who are suffering in the wake of a disaster. "Ready Now" funds are used to provide food and water, and survival and shelter kits to those whose lives have been turned upside down. For more information about the fund, click here.
To order the "Tell It on the Mountain" Starter Kit, or for more information, visit www.cph.org/vbs or call 800-325-3040. Prices quoted do not include shipping charges.

If you have questions or comments for CPH's VBS team, send an email to vbsteam@cph.org.
Posted Jan. 10, 2013 / Updated Jan. 15, 2013