Two LCMS pastors began work this summer as coordinators for the Synod's stewardship ministry with the Office of National Mission (ONM). Both are serving the ONM in part-time, deployed positions.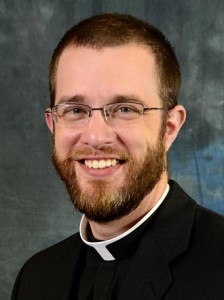 As coordinator for stewardship, the Rev. H.R. Curtis produces and edits stewardship resources; plans and conducts national — and assists with district-level — stewardship conferences; and helps coordinate stewardship efforts among LCMS entities. He began serving in the post in August.
Curtis has served since 2005 as pastor of Trinity Lutheran Church, Worden, Ill., and Zion Lutheran Church, Carpenter, Ill. He was assistant pastor of Trinity Lutheran Church, Burr Ridge, Ill., from 2004 to 2005, and served as an adjunct professor of theology at Concordia University Chicago, River Forest, Ill., in 2005.
A 2004 graduate of Concordia Seminary, St. Louis, Curtis also holds a master's degree in classical studies from Washington University, St. Louis.
He told Reporter that he is excited about his new position, especially "about helping pastors and parishes who are struggling financially and yet have shied away from stewardship.
"How do we approach finances from a Lutheran mindset? How does stewardship fit into the theological task of the minister of the Word? These were questions that I had to answer for myself as I led my two small, rural parishes through a tough financial time," Curtis said. "I'm eager to help folks in similar situations dig into the Word of God for answers to tough questions."
As assistant coordinator for stewardship since July 1, the Rev. Nathan Meador is charged with assisting Curtis in "raising the awareness and need for biblical and confessional stewardship in the LCMS," he said. Meador also writes the monthly e-newsletter StewardCAST.
As pastor of St. John Lutheran Church, Plymouth, Wis., since 2009, Meador also has served as pastor of Zion Lutheran Church, Staunton, Ill. (2003-09); Zion Lutheran Church, Aniwa (Town of Easton), Wis. (1998-2003); and Trinity and Zion Lutheran churches, Sheldon and Gilman, Wis., respectively (1996-98).
He is a 1996 graduate of Concordia Seminary, St. Louis, and has begun work toward a Doctor of Ministry degree there.
Meador told Reporter that his new position includes "a fresh focus on raising individuals, rather than programs," to lead local stewardship efforts.
"We seek to raise up new leaders to come alongside the more experienced ones so that our congregations, districts and Synod may once again be seen as leaders in the free and joyous exercise of biblical and confessional stewardship of all life and life's resources," he said.
ONM Executive Director Rev. Bart Day said the department is "very pleased to have two parish pastors — who understand and live stewardship in their daily parish life — partnering with us in this important work. We pray they will connect with parish pastors to support them in their stewardship life."
The coordinator and assistant coordinator for stewardship positions are in line with the Synod's restructure and are covered in the Synod's budget.