By Gretchen Roberts
ST. LOUIS (July 22, 2013) — "Although everything we do here is about theology, the Theology and Church Relations floor committee is most intensely about theology," said the Rev. Dr. Scott R. Murray, chairman of the 2013 LCMS convention floor committee, in his opening remarks. "We want to offer constructive solutions to often difficult problems in the church."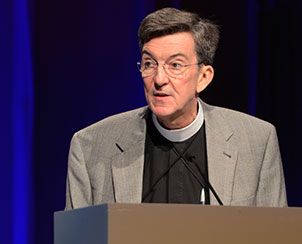 The committee presented six resolutions before the assembly today. Of those, five were adopted; one was tabled; and a lengthy discussion took place regarding Overture 4-06, "To Restore to Synod Conventions Sole Authority for Declaring Fellowship." In the 2013 Convention Workbook, the floor committee respectfully declined the overture with the stated reason of "Give more time." The Rev. Bart J. Fouts, an ordained voting delegate from the Nebraska District, asked permission to re-examine Overture 4-06 in order to "restore us as a grassroots, bottom-up rather than top-down church body."
Several delegates spoke in favor of returning the authority for declaring church fellowship back to the delegates at convention. "Relationships are not a switch you can toggle on and off," said the Rev. Charles Schulz, an ordained voting delegate from the Michigan District. "If the synodical president incorrectly declares fellowship with another church, we would be bound to work with those other Christians until it became clear that they were intractable in their errors."
Others, including LCMS Board of Directors Chairman Rev. Dr. Robert Kuhn, spoke in favor of allowing the president to declare fellowship in consultation with the Commission on Theology and Church Relations (CTCR) and the Praesidium. "Our brothers and sisters around the world do not understand our system and its delays. That signals to them we are not interested, that we do not want this fellowship," he said.
The Rev. Robert Weldon, an ordained voting delegate from the English District, stated that "the Lord has moved us to elect faithful leaders. It comes down to trusting the leadership which we've placed."
The delegates declined to consider the overture 814 to 193.
Resolution 4-01, "To Endorse Altar and Pulpit Fellowship with the Evangelical Lutheran Church of Liberia," was adopted by a vote of 946 to 7. Read more about the fellowship between the two church bodies.
Resolution 4-02, "To Endorse Altar and Pulpit Fellowship with the Siberian Evangelical Lutheran Church," was adopted by a vote of 965 to 3. Read more about the fellowship between the two church bodies.
Resolution 4-04, "To Affirm Growing Mutual Relationships Among International Lutheran Church Bodies," includes a provision for planning an international conference tentatively scheduled for the spring of 2015 that would discuss possible collaborative efforts among confessional Lutherans around the world. Regarding that portion of the resolution, Murray told the delegates, "We're going to get more out of this than we ever put into it." His words were met with applause in the convention hall — and another easily carried motion at 981 to 6.
Speaking to Resolution 4-05, "To Encourage Further Discussion with Wisconsin Evangelical Lutheran Synod and Evangelical Lutheran Synod," several delegates noted that in nearly 50 years of not having official discussions with these two church bodies, real people have been affected by the division in doctrine and unity between the church bodies and encouraged the delegates to pass the resolution. They did, with 949 voting yes and 21 voting no.
Delegates had a laugh when Murray announced a slight change in the wording of Resolution 4-08A, "To Provide Responsible Pastoral Care with Regard to the Practices Surrounding Holy Baptism."
"We have made a slight change, removing the word 'capriciously' in line 50, albeit the word was not removed capriciously," Murray said.
After adding the words "with water" after "Resolved, That congregations of the LCMS faithfully confess and retain the Trinitarian formula in baptizing," the motion carried 956 to 13.
The Rev. Heath Curtis, an ordained voting delegate for the Southern Illinois District, offered an amendment to Resolution 4-06A, "To Address Questions Re Service of Licensed Lay Deacons," which he stated would "be in line with the 'whereases' of the resolution and Article 14 of the Augsburg Confession." After some debate, the amendment was defeated and the resolution tabled.
Floor Committee 4 is scheduled to return Wednesday, July 24 with more resolutions.
The 65th Regular Convention of the LCMS is meeting July 20-25 at the America's Center Convention  Complex under the theme "Baptized for This Moment."