By Vicki Biggs
Assembling from across the country, 49 ministry leaders representing The Lutheran Church—Missouri Synod and its partners gathered Aug. 1-3 in St. Louis for the "Future Search Conference" to evaluate and plan for the church's future national Youth Gatherings.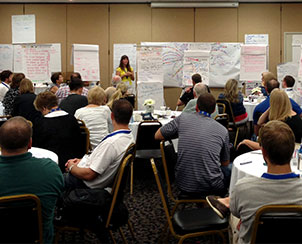 Meeting specifically to assess the current National LCMS Youth Gathering model and brainstorm for future, unplanned Gatherings (2019 and beyond), conference participants reminisced about previous Gatherings — the inaugural event was held in 1980, honored the heritage of LCMS Youth Ministry and reflected on current trends and issues affecting young people today.
"The purpose of the Future Search Conference was to celebrate the history of the National LCMS Youth Gathering as we renew and generate a realistic future plan for gathering youth together," said the Rev. Dr. Terry Dittmer, director of Youth Ministry for the LCMS. "Our task is to put a 21st century spin on an effective 20th century model."
At the conference, four key criteria for future Gatherings were identified:
All aspects of Gathering planning and the event itself shall remain Christ centric.
The event will retain its three-year planning cycle.
The latest technological advances will be continually integrated into components of the Gathering program.
Educational and preparatory materials and events throughout the three-year cycle will cohesively support the Gathering theme to provide further spiritual maturation for youth and adult leaders alike.
These criteria affirm the Gathering as an opportunity for youth to grow in faith and fellowship as well as foster interpersonal relations as the body of Christ, according to conference participants.
"On behalf of the LCMS Youth Ministry staff, I give thanks for the energy and insight shared at the conference," said the Rev. Mark Kiessling, associate director of Youth Ministry for the LCMS and the Gathering's program director. "I look forward to further collaboration from this diverse group of people as we plan for future Gatherings."
The 2016 National LCMS Youth Gathering will be held in New Orleans July 16-20, 2016. Thematic planning will begin in January 2014.
"The 2016 National LCMS Youth Gathering promises to strengthen our Lutheran youth through fostering in them a culture shaped by Lutheran values: devotion to the means of grace, vigorous service to the neighbor and a sturdy defense of the faith," said the Rev. Bart Day, executive director of the Synod's Office of National Mission, which oversees the activities of LCMS Youth Ministry and planning of the National LCMS Youth Gathering.
To learn more, visit lcmsgathering.com.
Vicki Biggs is director of Public Relations for LCMS Communications.