The Rev. Dr. Douglas and Marlene Groll of Chicago are among six Lutherans who will be recognized with "Seeds of Hope Awards" from Wheat Ridge Ministries at the organization's 14th Annual Benefit Dinner, March 2 in Addison, Ill. The event is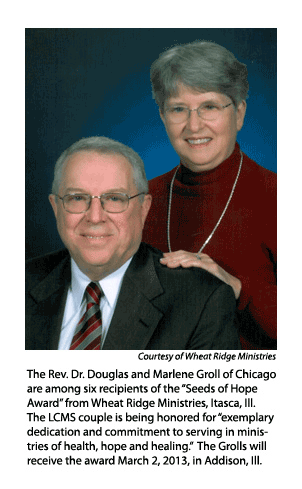 co-hosted by Wheat Ridge, in Itasca, Ill., and the Thrivent Financial for Lutherans Chicago Regional Financial Office.
The Seeds of Hope Award was established by Wheat Ridge "to recognize individuals for their exemplary dedication and commitment to serving in ministries of health, hope and healing," according to a news release.
The Grolls — the only LCMS Lutherans to receive the award this spring — have served the church for more than 45 years. From 1966 to 1978, they served as missionaries in Venezuela, working with small rural congregations in the mountains and helping to implement an extension education program to train Venezuelan pastors. During those years, Marlene served as a nurse to U.S. Peace Corps volunteers. In the early 1970s, Douglas served as pastor of The Savior Lutheran Church and administrator of both the Venezuelan Lutheran Mission and Concordia School.
In 1978, the Grolls moved to Cleveland, where Douglas served as pastor of Trinity Lutheran Church while Marlene worked as a staff nurse at the Lutheran Medical Center.
In 1987, Concordia Seminary, St. Louis, called Douglas to organize and direct its Hispanic Institute of Theology (now the Center for Hispanic Studies). Over the next 19 years, Groll supervised a small faculty and a cadre of regional instructors that would extend Lutheran theological education in Spanish to hundreds of Hispanic Lutherans in dozens of cities. During these years, Marlene continued her nursing career at Westlake Hospital in Melrose Park, Ill., as a staff nurse, charge nurse and as interim manager.
In 2002, Marlene left the hospital environment and began serving as parish nurse at St. Paul Lutheran Church, Melrose Park, where she continues to serve today. Although officially retired in 2006, Douglas continues to teach preaching and worship courses for the seminary's Center for Hispanic Studies and to preach when called upon to do so.
Also receiving Wheat Ridge's Seeds of Hope Award at the March dinner are Ingrid Christiansen, Gaylord Thomas and the Rev. Dr. Granger Westberg (posthumously). Michael Nevergall will receive the Seeds of Hope Emerging Leader Award. All are affiliated with the Chicago-based Evangelical Lutheran Church in America.
Posted Jan. 4, 2013