By Kim Plummer Krull
ST. LOUIS (July 21, 2013) – After reviewing the election results that returned him to the president's office, LCMS President Rev. Dr. Matthew C. Harrison turned the spotlight on the woman he calls a joy and a blessing.
"Despite being a rather public person, I'm able to live a rather mundane life, and that's because of this lady to my left who is the joy of my life and a real blessing to me," Harrison said, wrapping his arm around his wife, Kathy Harrison.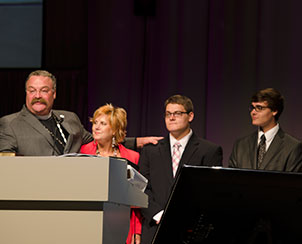 "She concentrates on making sure home is a good place for me, when I'm there, and it's a good place especially for those two guys," he continued, indicating the couple's two sons – Matthew, a junior at Concordia University Wisconsin, Mequon, and Mark, a high-school senior here.
The president asked his family to join him on the convention stage, saying he wanted to share "the joys of my life" with participants at the 65th Regular Convention of The Lutheran Church—Missouri Synod. A total 1,193 clergy and lay voting delegates (as reported July 22) are among those gathering at the America's Center Convention Complex for the conference, which has the theme "Baptized for This Moment."
"So often when people work for the church, and it's so many challenges, the concern about families is that your family continues to love their church and continues to love Jesus despite all the challenges that come along," said Harrison, whose family was greeted by convention participants with warm applause. "And I'm so pleased to know that my dear family does that, and they are a joy and an inspiration to me at every step."
On behalf of the LCMS Board of Directors, the Rev. Dr. Robert Kuhn, its chairman, presented a rose bouquet to Kathy to say thank you for sharing the president's time.  "It's a major sacrifice," Kuhn said, embracing Kathy and the couple's sons.
"Very humbling" is how Harrison described being elected and then, earlier this month, re-elected Synod president.  While the post "presents certain challenges along the way," Harrison said, it "helps one learn one's weaknesses and remember those weaknesses constantly."
It's "really quite something," the president said, to "literally sense yourself being carried along by the prayers of thousands of people."