James H. Heine, director of News and Information for LCMS Communications since 2010, announced his retirement in December and will officially leave his post May 1.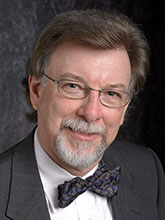 Candidates are being sought to succeed Heine to fill a revised position called director of Editorial Services in the recently restructured — as of February — Communications department.
One of Heine's chief duties has been to serve as executive editor of the Synod's official periodicals, Reporter and The Lutheran Witness. Under his leadership, those publications won a dozen national awards for excellence from the Associated Church Press and Evangelical Press Association.
Heine's tenure with the Synod began in 1979 at Concordia Publishing House (CPH), where he served as a copy editor before becoming coordinating editor for the editorial division. He spent nearly 20 years at CPH before founding his own company, Editorial Solutions. During his 10 years as principal of that firm, he twice was asked (in 1999 and 2007) to serve as interim managing editor of The Lutheran Witness.
Returning to full Synod employ in 2008, Heine served as both managing editor and then editor of the Witness before assuming his current role as director of News and Information.
"I have been wonderfully blessed in my career," Heine, 62, says. "I owe a tremendous debt of gratitude to my colleagues, both at Concordia Publishing House and here in the LCMS Communications department.
"Especially in the Editorial Department at CPH, I had as mentors and colleagues a group of veteran editors whose patience, charity, churchmanship and forbearance in working with and teaching a young editor were exceptional. They taught me so much. Most had begun their work at CPH — and their service to the church — in an era of linotype machines, hot metal, and stand-alone proof rooms. Their knowledge of publishing, printing, editing, language and the church was extraordinary, and they shared it freely — and with great kindness."
In the future with his wife, Rose, a retired schoolteacher, Heine plans to continue writing and editing, on a limited basis, both for the church and outside interests. A motor-sports expert and accomplished photographer, he also plans to devote part of his energies to covering racing and rallying for several automotive magazines.