By Melanie Ave
English language classes. Soccer teams. Zumba groups.
Those are just some of the ways LCMS congregations are reaching out to their local Hispanic neighbors, eventually sharing the Gospel with them and bringing them into the greater church community.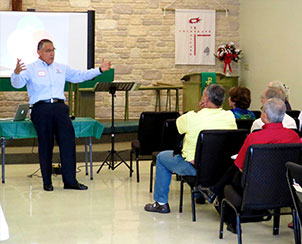 Hispanic ministry successes like these were the main topics of discussion at a gathering for Texas-area Hispanic ministry leaders and workers.
About 50 people attended the Aug. 24 event, titled "What's Working in Hispanic Ministry," held at the Iglesia Luterana Cristo Nuestro Salvador in San Antonio. The meeting, conducted in Spanish, was a joint effort by the Synod and the LCMS Texas District.
The Rev. Dr. Carlos Hernandez, director of LCMS Church and Community Engagement, which includes the strategic development of Hispanic Ministry, hopes to see more meetings like the one in Texas.
His goal? To create regular regional gatherings of LCMS Hispanic ministry leaders throughout the country.
"There is a lot of pent-up need and opportunity," he said. "My overriding goal is: When do we do this again, on a regular basis?"
Years ago, the Hispanic gathering in Texas was a regular occurrence. But it has not been held in many years, said the Rev. Michael Newman, a mission and ministry facilitator with the LCMS Texas District.
Newman said the gathering provided a much-needed forum for networking, learning and sharing so that leaders are better equipped to reach Hispanics from their congregations and ministries.
"We want everyone to know they are not alone," Newman said.
The Rev. Dr. Ely Prieto, urban mission developer with the LCMS Texas District, opened the day's meeting with a devotion, which was followed by sessions on ministry to children, youth, families and adults, and church planting.
Prieto based his devotion on 2 Corinthians 5:14-21, focusing on God being a God of relationships.
"Since the beginning, God wanted to be in relationship with His creation, with humankind," Prieto said, summarizing his devotion. "Our call is to be ambassadors for Christ, sharing His amazing message of reconciliation with the whole world; and as good ambassadors, we share this message in different languages, among different cultures, with the same passion and love for Christ, whom we represent."
Other speakers included:
the Rev. Steve Morfitt and the Rev. Ed Weber, who conduct missional worker training in the Rio Grande Valley.
the Rev. Eloy Gonzalez and Juan Zamora of Our Redeemer Lutheran Church in Irving, Texas.
Beto Alzate of LINC North Texas.
the Rev. Gary Martin and Irene Torralva of Cristo El Salvador in Del Rio, Texas.
the Rev. David Kim of LINC Houston.
Gonzalez told the group about his congregation's outreach efforts.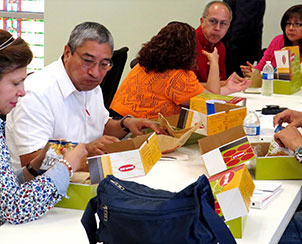 "We have been blessed in our outreach efforts to Hispanic families by sponsoring a number of soccer teams," he said. "This has led to praying with the teams and families, devotions at practices, Baptisms and first communion instruction.
"We also offered Zumba classes for moms in our fellowship hall, again offering prayer, devotions and meeting the children they bring. These are long-term offerings that allow us to come into contact with families over protracted periods of time."
Kim relayed statistics to the group, underscoring the need to plant more congregations as a way to fulfill the Great Commission.
The 2010 U.S. Census reported that 15.5 percent of the U.S. population was Hispanic or Latino, he said. By 2050, that number is expected to increase to 29 percent, according to a Pew Research Center report.
"We do not merely plant churches because the Hispanic/Latino community is growing in our neighborhoods, but because God has brought the mission field into our own backyards for the sake of the Gospel," Kim said.
Hernandez ended the gathering with a closing devotion based on Romans 15:13.
"My goal was to give them some encouragement," Hernandez said. "Even though we have challenging situations in ministry, we also have joy, hope and peace in the Lord."
To see a photo album from the conference, click here.
Melanie Ave is senior writer and social media coordinator for LCMS Communications.