By Vicki Biggs

In advance of an anticipated vote in the Illinois Senate on a same-sex "marriage" law, three LCMS Illinois district presidents joined Roman Catholic, Muslim and Mormon church leaders in signing an open letter to Illinois lawmakers in support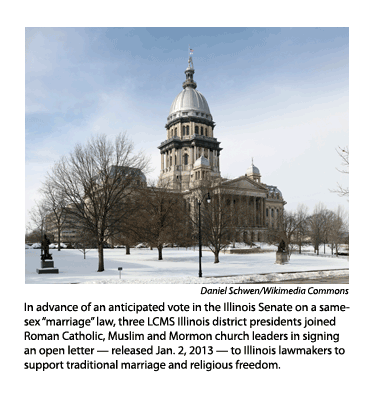 of the traditional definition of marriage and religious freedom.
The Rev. Timothy J. Scharr, president of the LCMS Southern Illinois District; the Rev. Dan P. Gilbert, president of the LCMS Northern Illinois District; and the Rev. Mark A. Miller, president of the LCMS Central Illinois District, signed the letter, released Wednesday, Jan. 2, urging Illinois lawmakers to reject legislation that would alter the definition of marriage from anything but the union of one man and one woman.
This action was taken as Illinois Senator Heather Steans announced plans to introduce the Religious Freedom and Marriage Fairness Act to legalize same-sex "marriage" after the state senate reconvened Wednesday. If the act is passed, Illinois would become the 10th state to legalize same-sex "marriage."
"The signatories are unanimous in agreeing that God created marriage as the union of man and woman," Scharr said. "This is not a sectarian issue, but one rooted in natural law that ultimately impacts everyone in the state."
In the letter, the signatories counter the oft-quoted claim that the principal threat to religious freedom is the possibility of ministers being forced to officiate at same-sex "weddings."
The leaders write: "The notion that the exercise of religious freedom is confined to the interior of churches, synagogues, temples or mosques or what one does on Holy Days is wrong and dangerous. The freedom of religion also extends to the ministries of religious organizations and to the individual conscience. Thus, the real peril: If marriage is redefined in civil law, individuals and religious organizations — regardless of deeply held beliefs — will be compelled to treat same-sex unions as the equivalent of marriage in their lives, ministries and operations."
They added that "compulsion of this nature is a violation of personal conscience and of religious liberty."
To read the letter, click here.
Vicki Biggs is director, Integrated Communications, with LCMS Communications.
Posted Jan. 4, 2013