Realigned on Feb. 1 with the goal of being both more strategic and efficient, the LCMS Communications department now operates in two separate but cooperating spheres: Strategic Communications and Communication Services.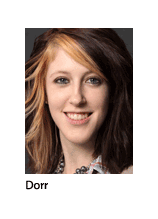 Under the leadership of Executive Director David Strand, Communications staff members Adriane Dorr and Deaconess Pamela Nielsen now provide oversight to the department's two new divisions.
Dorr, former managing editor of The Lutheran Witness, one of the Synod's two official periodicals (Reporter being the other), serves as associate executive director for Strategic Communications. The strategic side of the department will work to ensure that the theology, values and mission priorities of the LCMS are articulated in a consistent and engaging way through a variety of communications channels across the Synod.
Nielsen, former managing editor of Witness, Mercy, Life Together and specifically of the magazine Lutherans Engage the World, which tells the story of the Synod's work around the world, serves as associate executive director for Communication Services. Maintaining regular contact with the strategic team, Nielsen oversees the department's communication delivery-service areas — such as graphic design, editorial, video, web and social media. Both Nielsen and Dorr will maintain editorial oversight of the magazines they formerly managed.
As part of the restructuring mandated by the 2010 Synod convention, the department no longer reports to the former Board for Communication Services, which was dissolved. The department now reports directly to the chief mission officer, who, in turn, reports to the Synod's president.
Due to that restructuring, realigning the department's work was an inevitable and strategic decision.
"Communications is critical to a unified mission effort," explains Chief Mission Officer Rev. Gregory Williamson. "Synod's members deserve timely, accurate information in order to engage with missions and ministries. Through realignment of our Communications department, we intend to enhance and expedite our ability to inform, encourage and educate our Synod's members."
Posted Feb. 28, 2013 / Updated March 4, 2013