By Melanie Ave
LCMS Life Ministries issued a statement May 13 following the murder conviction of Philadelphia abortion doctor, Dr. Kermit Gosnell, in the death of three infants who were born alive at his clinic, but who died after their spinal cords were severed in procedures Gosnell called "abortions."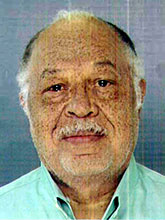 "As pro-life Christians devoted to the biblical understanding of the sanctity of human life, we grieve over the tragic loss of these lives and the thousands of other children and mothers who die daily as a result of abortion," the statement reads. "Today's conviction of Gosnell brings justice for the many victims of this horrific abortion facility and demonstrates that abortion is clearly a slippery slope that seeks to deprive the most helpless of their basic human right: life."
The jury will determine whether Gosnell should receive the death penalty for the murders.
The jury of seven women and five men acquitted Gosnell on a fourth murder charge of an infant who prosecutors say also was born alive. They also convicted him of involuntary manslaughter in the 2009 botched abortion death of one patient, 41-year-old Karnamaya Mongar, who the jury decided was overdosed on Demerol by Gosnell's untrained staff.
Gosnell also was found guilty of numerous violations of performing abortions after 24 weeks gestation — illegal in Pennsylvania — and other charges of violating the state's informed consent and 24-hour waiting period laws.
During the nine-week trial, which included weeks of graphic testimony, prosecutors described the abortion clinic as a "house of horrors." They noted unsanitary conditions and unsafe practices.
The trial became the subject of much debate nationally after pro-life activists and others criticized the mainstream media for ignoring the trial early on.
One of those who helped spotlight the lack of coverage was Mollie Ziegler Hemingway, senior writer for GetReligion.org and a member of Immanuel Lutheran Church, Alexandria, Va. A Reporter article about Hemingway can be found here.
The statement from LCMS Life Ministries noted the resources and support developed by the Synod to help "pregnant women so they can avoid seeking abortions" because "abortion doesn't solve – but only masks – problems many women face and leaves many of them grieving the death of a child."
The Gosnell trial "rightly caused people to consider the philosophical issue of why an abortion procedure performed in utero is legal, but also how a similar act a few minutes later, outside the womb, is considered homicide," according to the statement. "Clearly, the case was about the death of five persons and no one can argue against the personhood of these four smaller humans. This case has exposed the ugly underbelly of the pro-abortion movement and it has brought the humanity of unborn children before the public conscience."
The statement also encourages legislators and citizens to "examine the brutality of abortion, which takes the lives of 1.2 million children every year.
"The LCMS aims to be a place of forgiveness, mercy and healing for all people as we continue to proclaim Christ's comfort and truth in love," the statement concludes. "As we move forward following this ruling, we offer up our prayers for women and children in need, for families, that those still participating in the abortion industry would stop, and for our nation."
Find the full statement and learn more about LCMS Life Ministries at www.LCMS.org/Life.
Maggie Karner, director of Life and Health Ministries for the Synod, spoke of the impact and implications of the Gosnell trial and verdict in a May 13 "WLN (World Lutheran News) Digest Minute." To hear or download the news segment, click here. "WLN Digest Minute" is a broadcast ministry of the LCMS that is produced through the facilities of Worldwide KFUO.
Also, Lutherans For Life (LFL) on May 14 distributed and posted to its website a response from LFL Executive Director Rev. Dr. James Lamb titled "Gosnell Response: Guilty as Charged is Not Enough." To read Lamb's response, click here. LFL describes its mission as "equipping Lutherans to be Gospel-motivated voices For Life."
Synod President Rev. Dr. Matthew C. Harrison provided his reaction to the Gosnell verdict during a May 13 "Issues, Etc.™" interview.  To download or listen to that interview, click here. "Issues, Etc.™" is a listener-supported program of Lutheran Public Radio.
Melanie Ave is senior writer and social media coordinator with LCMS Communications.
(Updated May 14, 2013)