Lutheran World Relief (LWR) President and Chief Executive Officer Rev. Dr. John Nunes will this fall assume the Emil and Elfrieda Jochum Chair at Valparaiso University in Valparaiso, Ind.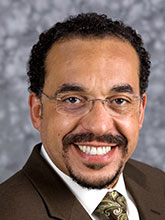 Nunes, 50, announced his resignation from Baltimore-based LWR May 16. His last day will be Sept. 1. Nunes, an ordained LCMS pastor, is LWR's fourth president and has led the organization since 2007.
Valparaiso is an independent Lutheran university about an hour's drive from Chicago.
The announcement marks the return of Nunes to academia. Nunes taught theology at Concordia University Chicago, River Forest, Ill., before joining LWR.
"I am honored by this opportunity to join such a dynamic community of learning with a tradition of excellence," Nunes said in a news release from Valparaiso. "Valparaiso University uniquely prepares students to engage the world with critical and self-critical reflection, especially from a Lutheran Christian framework. I'm simply elated to occupy this chair."
The Valparaiso endowed position to which Nunes has been appointed supports the study of Christian values in public and professional life. Nunes will continue the work of the Rev. Dr. Walter Wangerin Jr., who held the position from its inception in 1991 until 2009. He will work closely with several areas of campus, including Christ College — The Honors College, the English department, the theology department, the international studies department and the campus ministries division. He also will teach and partake in other pedagogical activities throughout the academic year, according to the Valparaiso news release.
"As an international Lutheran university, Valpo is concerned with both the intellectual and spiritual development of our graduates," said Dr. Mark R. Schwehn, university provost and executive vice-president for academic affairs. "Pastor Nunes' career is a model for those seeking to become leaders who will be informed by their faith and who will tirelessly strive for justice in the world. As Jochum Chair, Pastor Nunes will hold this university to its highest ideals of scholarship and faith."
In his current position, Nunes led LWR through a strategic planning process in 2009 and oversaw the organization's rebranding effort in 2010.
LWR, a ministry of U.S. Lutherans, is an international nonprofit organization that works to end poverty and injustice by empowering some of the world's most impoverished communities to help themselves.
During his tenure at LWR, Nunes has worked to highlight Lutheran social teachings and draw distinct theological connections for the mandate of international humanitarian work, according to a news release. Under Nunes' leadership, LWR has grown from a $35 million annual budget in fiscal year 2007 to $45.9 million in 2012. Last year LWR assisted 7.8 million people in 35 countries in their efforts to recover from disasters and lift themselves out of poverty.
Nunes said in a release that he has loved working at LWR, which he called a fabulous organization with a dedicated and passionate staff.
"It has been such a gift to witness the profound changes that LWR's work leads to in the lives of our brothers and sisters suffering poverty and marginalization overseas," he said. "I believe deeply that God created everyone to live in justice, dignity and peace.
"And I have been inspired by the outpouring of love and support from Lutherans in the U.S. who put their faith into action with LWR. I am so thankful for the opportunity to have served as LWR's president, and I remain committed to supporting its mission in the world. I am excited to build on my experience here, sharing what I have seen and learned with the next generation of leaders."
Nunes has been a major proponent of the Lutheran Malaria Initiative (LMI), a partnership of LWR and the LCMS to mobilize U.S. Lutherans in the global effort to eliminate malaria deaths in Africa. LMI has been made possible through support from the United Nations Foundation and has raised more than $7 million in cash, pledges and verbal commitments. As of March 31, 26 percent of LCMS congregations were actively raising money for LMI.
"The Rev. Dr. John Nunes is an unbelievably charismatic leader," said Martha Mitkos, LMI director for the LCMS. "He has been able to light a fire in the hearts of Lutheran constituents for awareness, treatment and prevention of malaria. His leadership will be greatly missed. We pray the Lord blesses him in this new venture and may the mission and ministry of LWR remain fruitful."
Before he began teaching at Concordia University Chicago, Nunes served as a management consultant, and as an urban parish pastor and community organizer in Dallas and Detroit. He holds a Bachelor of Arts from Concordia College (now Concordia University), Ann Arbor, Mich.; and a Master of Divinity from Concordia Seminary in St. Catharines, Ontario, Canada. From the Lutheran School of Theology at Chicago he holds both a Master of Theology and a Doctor of Philosophy with an emphasis in postcolonial identity. He has received honorary doctorates from Concordia University, Ann Arbor, and Carthage College, Kenosha, Wis. He currently sits on the board of directors of InterAction, the largest alliance of U.S.-based international nongovernmental organizations.
Nunes is the author of Voices from the City: Issues and Images of Urban Preaching and, with his wife, Monique, the children's book Little Things Make Big Differences: A Story about Malaria. He also is co-editor, with Mary Philip and Charles M. Collier, of Churrasco: A Theological Feast in Honor of Vítor Westhelle.
A committee, to be named by LWR Board Chair Gloria Edwards, will conduct a national search for LWR's next president and CEO. Executive Vice-President Jeff Whisenant will serve as interim president during the search. Whisenant has more than 25 years of experience in program, finance and executive leadership in international relief and development, including 19 years at LWR.
"The Rev. Dr. John Nunes will be sorely missed," Edwards said. "His particular gifts — collaborative leadership, effective visioning, dynamic presentation skills — have left Lutheran World Relief in an enviable position as we continue our work to end poverty, injustice and human suffering. He is indeed one of a kind."