The latest issue of Missio Apostolica, the journal of the Lutheran Society for Missiology, is available as a PDF for free downloading.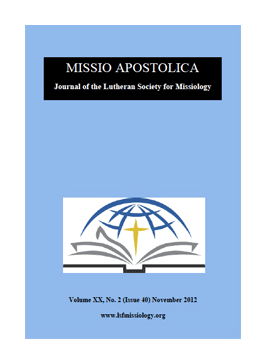 The publication is published twice a year, typically in May and November, "to promote discussion of thoughts and issues related to the Christian mission within the frame of reference of Confessional Lutheranism," according to its website.

Missio Apostolica is intended to provide a forum for:
the exchange of ideas about mission;
discussion of Christian faith, mission and life on the basis of Holy Scripture and evangelical theology; and
fostering the apostolic mission of the Triune God in the world.
The current November 2012 issue includes 16 articles on communicating the Gospel in cultural contexts; a review of the book What It Is Like to Go to War, by Karl Marlantes; sermons; and an editorial, "Communicating Across Cultures," by the Rev. Dr. Victor Raj.

The May 2013 issue will focus on reaching the "millennial generation," or those born between the early 1980s and the early 2000s. Anyone who is interested in contributing articles on that topic is encouraged to contact Editor Rev. Dr. Victor Raj via email at rajv@csl.edu. The deadline for submitting articles is March 1.

To download Missio Apostolica or to learn more about the Lutheran Society for Missiology, go to www.lsfmissiology.org.
Posted Jan. 17, 2013