Although the Jan. 1, 2014, Tournament of Roses Parade in Pasadena, Calif., is still five months away, preparations on the Lutheran Hour Ministries (LHM) float are well under way.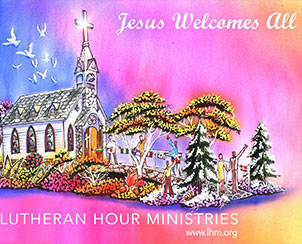 LHM's Rose Parade float — a project of the International Lutheran Laymen's League's Southern California District — provides a Christian witness to local parade-goers and television viewers worldwide. It is the only Christian-themed float in the annual parade.
Under the overall 2014 Rose Parade theme of "Dreams Come True," the theme of the LHM float will be "Jesus Welcomes All." The float marks LHM's 64th appearance in the Tournament of Roses Parade. Featured riders will include LCMS President Rev. Dr. Matthew C. Harrison and his wife, Kathy.
"The design and construction of the LHM float is a yearlong process that begins almost immediately after the current year's parade," said Dick Gast, chairman of the Lutheran Hour Ministries Float Committee. "A lot goes into having the float ready to decorate by the second week in December."
Integral to the decorating phase of the process are the thousands of "Petal Pushers" volunteers who travel to Pasadena from across the United States to create "rolling art" by placing flowers, petals, stems and seeds on the floats.
The Petal Pushers already are making plans to work on the 2014 LHM float and seven others they have contracted to decorate, and applications are being accepted now. Anyone age 13 and older may participate.
For more information or to volunteer, visit petalpushers.org.