Col. George "Bud" Day — an LCMS member and one of the most highly decorated military officers in U.S. history — died July 27 at his home in Shalimar, Fla., of complications from cancer. His funeral was Aug. 1 at the Emerald Coast Convention Center in Fort Walton Beach, Fla. He was 88.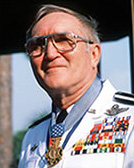 Day was the subject of an August 2012 profile in The Lutheran Witness, "10 Minutes with … Colonel Bud Day," by Jeni Miller, who received an award for the story this spring from the Associated Church Press.
Day — who spent more than five years as a prisoner of war in Vietnam and was Sen. John McCain's cellmate — endured brutal torture and suffered many injuries, but his faith in God "never faltered," he told Miller. Acknowledging that he had been "very frightened many times" during his captivity, Day said he also experienced a physical "calm that God gave me in the midst of trouble."
In a July 28 statement, McCain said he owed his life to Day, who helped nurse him back to health in a Vietnam prison. "He was the bravest man I ever knew," McCain said, "and his fierce resistance and resolute leadership set the example for us in prison of how to return home with honor."
Day's survivors include his wife of 64 years, Doris; four children — Steve Day of Gulf Breeze, Fla.; retired Air Force Lt. Col. George Day Jr. of Spring, Texas; Sandra Hearn of West Monroe, La.; and Sonja LaJeunesse of Fort Walton Beach, Fla. — and 15 grandchildren.
Updated Aug. 1, 2013