The 2013-14 edition of "Chapel Talks for Lutheran Schools," titled Learn the Faith, Live the Faith, is available for order from LCMS School Ministry in soft-cover print and PDF.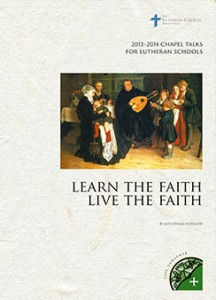 Written by Lutheran freelance author and editor Jonathan Schkade of Hamel, Ill., the new edition contains 36 weekly devotions based on Luther's Small Catechism — plus special messages for opening and closing the school year, for Grandparents Day and for National Lutheran Schools Week. Along with a message, each of the 40 devotions also offers a Scripture reading, a prayer and a hymn from Lutheran Service Book.
With its focus on the catechism, the 2013-14 Chapel Talks also is suitable for use beyond school-wide devotions, including congregations' midweek classes and Sunday schools, and school or congregation staff devotions.
The soft-cover booklet (item SMCT13-14) is $20 per copy and the PDF (SMCT13-14-E) is $15. Those who purchase either version may reproduce the Chapel Talks for use in schools and congregations.
Payment must accompany each order — either by check (made out to "LCMS School Ministry") mailed to LCMS School Ministry — Attn: Chapel Talks, 1333 S. Kirkwood Road, St. Louis, MO 63122-7295; or by credit card (VISA or Master Card) through the LCMS Online Store at http://store.lcms.org (search for "Chapel Talks").
An order form for Chapel Talks 2013-14 was mailed to all Lutheran schools this spring.
The new edition is dedicated to Dr. William D. Cochran, who retired in June after 11 years as director of LCMS School Ministry.
"Dr. Cochran maintained that teaching the faith to our children was the heart and center of Lutheran education," according to a statement on a dedication page of the booklet.
The 2013-14 edition includes endorsements from several LCMS professional church workers.
"This year's Chapel Talks provides a wonderful opportunity for students to work their way through the Small Catechism," writes Deaconess Sally J. Hiller, executive director for Congregational Outreach and District Operations for the LCMS Southeastern District. "Each message directs the listener to a clearer understanding of the core beliefs of the Christian faith taught in the Bible. Just as important, these devotions encourage the listener to take to heart those words in both learning what they mean and living what they proclaim."
From Mark J. L'Heureux, executive for Schools, Youth and Family Ministry for the LCMS South Wisconsin District: "Chapel Talks 2013 is an exciting publication of connectedness to the foundations of our Lutheran beliefs. Our Lutheran schools will be benefited through this resource in helping reaffirm our teachers and school leaders in our Lutheran practices and stance as related to the Sacraments. In turn, it is the desire that our students, hearing these words, will have a greater understanding and appreciation of how they can live out their lives in witness, mercy and life together."
And the Rev. Stephen Kieser, pastor of Trinity Lutheran Church, Evansville, Ind., writes: "Chapel Talks is spot on. Luther's Small Catechism has been and remains the best resource for teaching the Christian faith to children and adults. I can think of no better catechesis for the littlest child to the veteran Lutheran educator than diligently studying and praying the Scriptures, the catechism and Lutheran Service Book."
For more information about the 2013-14 Chapel Talks, contact Kathy Fangmann of LCMS School Ministry at 800-248-1930, ext. 1285, or email kathy.fangmann@lcms.org.