Four students at Concordia Theological Seminary (CTS), Fort Wayne, Ind. received awards for 2013 in an annual essay contest sponsored by the LCMS Office of National Mission.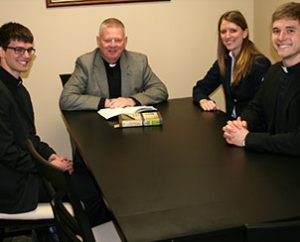 Each year, the contest seeks to engage LCMS seminarians and deaconess students in original scholarship to reflect an aspect they choose of the Synod's three-fold emphasis on Witness, Mercy, Life Together.
This year's winning essayists are:
Jared DeBlieck, for his essay titled "In the Midst of the Garden: The Divine Service as a Work of Mercy in the Church's Ministry of Word and Sacrament";
Faith (Fretham) Swenson — "Luther on Mercy in the Lord's Supper and Its Implications for the Lutheran Church Today";
Aaron Hambleton — "Life Together through Altar Fellowship: The Pastoral, Christian Necessity of Closed Communion"; and
Scott Johnson — "By Whom All Things Were Made: The Importance of Confessing Christ as the Foundation of Our Life Together with all Creatures."
"What really impresses me is [the students'] eagerness to think theologically," said the Rev. John T. Pless, CTS assistant professor of Pastoral Ministry and Missions and coordinator of the contest. "It demonstrates that they want to understand the life of the Church from a uniquely Lutheran perspective."
The winners each received $500 — presented to them May 14 at the seminary's Kramer Chapel.
Pless said the contest was established to get students thinking theologically about how the Church witnesses Christ through acts of mercy and how Lutheran theology shapes the Church's life together.
"We are very grateful [to the LCMS] Office of National Mission for the decision to continue this contest," he said. "I see it as a valuable way of engaging future pastors and deaconesses to be outwardly minded about the life of the Church."
To read the essays, click here.
Updated July 9, 2013