The Rev. Dr. Norbert H. Mueller Sr., who served 17 years at Concordia Theological Seminary, in Springfield, Ill., and in Fort Wayne, Ind., in various positions — including as interim president — died Jan. 10 in Dallas. He was 86.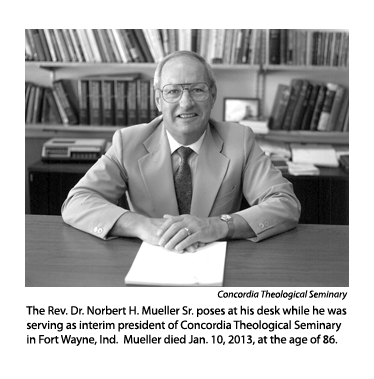 A funeral service was held Jan. 15 at Zion Lutheran Church in Dallas.
Mueller served as the seminary's interim president from 1989 to 1992. Before his appointment, Mueller had been an assistant to then-President Rev. Dr. Robert D. Preus.
The Rev. Dr. Lawrence Rast Jr., current president of the seminary, told Reporter: "When the news reached Concordia Theological Seminary that Dr. Norbert Mueller's running of the race had reached its victorious end on Jan. 10, 2013, we immediately recalled the many ways in which our Lord Christ had blessed Dr. Mueller and, through him, the Fort Wayne seminary.
"While we grieve with the family over the passing of a dear husband, father, grandfather and great grandfather, at the same time we rejoice in the promises of God that are now realized for Dr. Mueller as he experiences the nearer presence of Christ. "
A native of Rochester, N.Y., Mueller received his M.Div. degree from Concordia Seminary, St. Louis, in 1954. Upon graduation he received a graduate fellowship that enabled him to write his Master's Degree in Sacred Theology, which he received in 1955. In 1980 he received a Doctor of Ministry degree from United Theological Seminary in Dayton, Ohio.
Mueller served three parishes in Michigan: St. Paul, Sanford; Faith, Bridgeport; and St. Paul's, Ann Arbor. At one time he was secretary of the LCMS Michigan District.
Mueller joined the seminary faculty in 1976, serving as professor of Systematic and Practical Theology. He also was faculty secretary and director of the Placement, Vicarage and Field Education department. Mueller served at the seminary until his retirement in 1993.
He also served on the Synod's Commission on Theology and Church Relations for 19 years, including as secretary for several of them.
In 1990 he co-authored a textbook, Pastoral Theology, which was published by Concordia Publishing House in St. Louis.
During a sabbatical he taught at the Lutheran seminary at Obit Idim, Nigeria. In his retirement he continued his passion for education on the African continent by serving as a consultant for establishing a classical seminary in Accra, Ghana, and teaching at a seminary in South Africa.
Also in his retirement he served as an executive assistant to the LCMS Texas District president, preached occasionally at Zion Lutheran Church in Dallas and led a weekly Bible-study class.
Mueller's obituary describes him as "a leader, whether in the church or larger community. His clarity of thought and ability to articulate it is seldom matched and will be missed. He baptized many and shared the love of Jesus with even more. He was a pastor's pastor that loved and cared for his flock. He loved the Lord Jesus Christ with all his heart!"
Mueller is survived by his wife of 58 years, Marian, and three children — Norbert (Carol) Mueller Jr.; Sascha (Tim) Looper; and Catherine (Jeff) Burkee — as well as eight grandchildren and two great-grandchildren. Also surviving are two sisters — Diann (Richard) Berndt and Anita (Frederick) Schultz — and a brother, Michael (Cordelia) Mueller.
Memorials may be made to Lutheran World Relief, Baltimore, or Zion Lutheran Church, Dallas, Music Ministry.
Posted Jan. 15, 2013 / Updated Jan. 16, 2013