By Kim Plummer Krull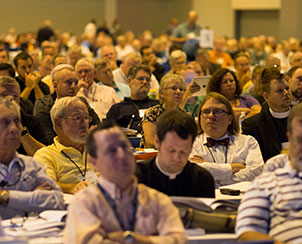 (ST. LOUIS, July 25, 2013) – In Congress, an omnibus bill packages together many diverse measures. Likewise, LCMS convention delegates adopted three "omnibus" resolutions that include a total of more than 60 overtures, covering topics as wide-ranging as improving the process for calling pastors, to moving the 2016 LCMS convention to 2017 in honor of the 500th anniversary of the Reformation.
Over the course of the convention, delegates adopted:
Resolution A, which refers some 50 overtures to a designated board, commission or individual to study and implement. By common consent, the convention agreed to move Overture 3-32 "To Revoke RSO Status of Transforming Churches Network" from this resolution to Omnibus Resolution D.  Floor Committee 3 on Life Together determined this issue had been through another resolution and needed no further action.
Resolution B, which declines to take action on 11 overtures addressed by previous LCMS conventions. Those overtures specify the convention year and resolutions that relate to them.
Resolution C, which thanks the Lutheran Church Extension Fund and Concordia Publishing House, commends the Commission on Theology and Church Relations for recent reports and encourages full consideration of church workers' continuing needs for health care coverage. The resolution was amended when Floor Committee 2 on Mercy used the overture for a resolution to thank the LCMS Offices of the President, National and International Mission, and the Synod secretary for their work and efforts in implementing the 2010 LCMS convention resolution to restructure the Synod. Res. 3-16A, adopted by a vote of 97 percent, also acknowledges the sacrifices of those who were reassigned or whose positions were eliminated in the restructuring.