Helen Gienapp, ninth president of the Lutheran Women's Missionary League, died Feb. 28 in Berkley, Mich., at the age of 91. She served as LWML president from 1979 to 1983.
A funeral service was held March 4 at Ascension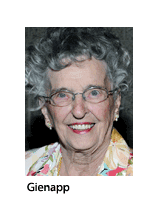 of Christ Lutheran Church in Beverly Hills, Mich.
A longtime member of the LCMS women's auxiliary, Gienapp was the first LWML president to hold a full-time job during the first biennium of her term as president — serving the Greater Detroit Chamber of Commerce — and she continued working part time during her second biennium.
"Her business knowledge was a great asset that helped Helen update procedures and initiate the 'Program of Work,' a complete listing of the LWML program and officers," according to an LWML news release.
Gienapp presided over the 1981 LWML convention that was held in Milwaukee under the theme "Come to the Living Water" and where the auxiliary celebrated its 40th anniversary.
The second LWML convention of her term was held in 1983 in Detroit, with the theme "Reach Out with Christ." This was a four-generation event, with Gienapp's mother, Dorothea Fischer, and her daughter, Karen Soeken, in attendance. Gienapp's granddaughter, Elizabeth Soeken, served as her convention page.
Gienapp served on the board of directors for Mission Opportunities Short Term (MOST) Ministries and took part in mission trips to Ghana, Indonesia and Kyrgystan. She also served on boards for the Concordia College (now University), Ann Arbor, Mich., Foundation; the LCMS English District (as well as the district's President's Commission on Women); the Detroit Area Council of Lutheran Women; Historic Trinity Inc., Detroit; the Ferndale (Mich.) Youth Association; and the Ferndale Classic Car Show.
She was the Michigan coordinator for the American Bible Society (ABS) and volunteered with ABS for many years.
Gienapp's other civic activities include volunteering at the Michigan State Fair, and being a member of the American Historical Society of Germans from Russia.
She was honored as the 1995 Detroit area "Lutheran Woman of the Year," the 1998 "Michigan American Bible Society Volunteer of the Year" and the 2005 "Ferndale Citizen of the Year."
Current LWML President Kay Kreklau called Gienapp "an amazing woman.
"The LWML has been greatly blessed through her faithful service to our Lord," Kreklau said. "May God provide peace and comfort to her family and friends."
Gienapp's husband, the Rev. Walter Gienapp, preceded her in death. She is survived by five children: Karen Soeken, Roger Gienapp, David Gienapp, Marcia Gienapp and Richard Gienapp; 12 grandchildren; 12 great-grandchildren; and three sisters: Doris Spyker, Alice Schutt and Eleanor Finger.
Memorials may be designated for Lutheran Women's Missionary League Mites, MOST Ministries or Ascension of Christ Lutheran Church.
Posted March 2, 2013 / Updated March 4, 2013