The Rev. Dr. Earl Herman Oscar Gaulke, former vice-president of the editorial division at Concordia Publishing House (CPH), died Wednesday, Oct. 30, of pancreatic cancer. Gaulke, most recently of Sarasota, Fla., was 86.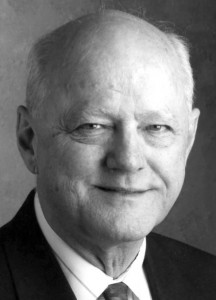 A memorial service was held Nov. 5 at Concordia Lutheran Church, Sarasota. Gaulke's son, the Rev. Stephen Gaulke, pastor of Concordia, led the service. According to his wishes, Gaulke's body was donated to the Memory and Brain Aging Project of Washington University, St. Louis, of which he had been a part during his life.
Gaulke served for some 40 years as a writer and editor for the Synod's Board for Parish Services and CPH, including four years as vice-president of CPH's editorial division. During his career, he launched Happy Times magazine, was editor of Sunday school materials, edited Teachers Interaction magazine and Learning About Sex, and served as committee chairman of the LifeLight Adult In-depth Bible Study Series. He also authored the book You Can Have a Family Where Everybody Wins, which was translated into 13 languages and sold more than 120,000 copies.
He retired from CPH in 1998, but continued to serve as a part-time consultant and as editor of Happy Times until 2011.
"Earl Gaulke was a faithful servant of our Lord whose joy in Christ was a constant source of encouragement to all his coworkers," the Rev. Paul McCain, publisher at CPH, told Reporter. "He was known among CPH editors as 'Mr. Law and Gospel' for his keen and unrelenting focus on the proper way to teach and share God's Word."
"Even in his retirement years, he continued to serve at CPH. His visits were always welcome and we always knew Earl was around. We just listened for the singing! May God comfort his family with the great joy of Christ that Earl received in abundance," continued McCain.
A 1950 graduate of Concordia Teachers College (now Concordia University Chicago), River Forest, Ill., Gaulke went on to earn his Master of Divinity degree from Concordia Seminary, St. Louis, in 1956. He later earned an M.A. (1965) and Ph.D. (1970) in educational psychology from Washington University, St. Louis.
Early in his career, Gaulke served as principal and upper-elementary teacher at Pilgrim Lutheran School in Santa Monica, Calif., where he met his future wife, Margaret Preuss. After earning his Master of Divinity, he also served as a parish pastor in California before discovering his call to write and edit Christian educational materials.
Survivors include his wife, Margaret, of Sarasota; sister Elinor Dahmer of Chicago; daughter Cheri of Los Angeles; son Stephen of Sarasota; seven grandchildren and two great-grandchildren.
Stephen Gaulke said, "My dad once told me, humbled and delighted, how LCMS President Ralph Bohlmann had once introduced him to a group as 'our Synod's leading theologian of Law and Gospel.' This doctrine was the heartbeat of his Christ-centered editorial work and the heart of the kindness, wit and wisdom which he shared with us all."
Memorials may be directed to Concordia Lutheran Church, 2185 Wood St., Sarasota, FL 34237.
Updated Nov. 5, 2013