By Melanie Ave
The Rev. Richard Schlak wanted the participants of the first national Partners in Latino Ministries Conference (PALMCON), held Oct. 23-25 in El Paso, Texas, to leave with "practical ideas" and resources they could put to use immediately in their communities.
Schlak —  executive director of the Lutheran Hispanic Missionary Institute (LHMI), the LCMS Recognized Service Organization that hosted the conference — believes that goal was accomplished, and more.
"The interactive format and the keynote presentations all helped bring out things that could be put into practice," he said. "Several people commented about things they wanted to do in their ministries in the next couple of months."
The conference brought together some 75 participants and presenters, including veterans of Hispanic ministry and those new to the ministry. Pastors, lay leaders, church workers, students, missionaries, district leaders and international resource providers were among the participants.
"This conference went beyond our expectations," Schlak said. "We were novices at this but the Lord brought us together and touched our hearts."
One keynote presenter was the Rev. Tardeli Voss, a missionary church planter for the LCMS Mid-South District who currently serves at Iglesia Luterana Cristo para Todos (Christ for All Lutheran Church), a Hispanic congregation partnering with Salem Lutheran Church in Springdale, Ark.
Schlak said Voss spoke about three different tasks he was encouraged to undertake when he came to Arkansas from Brazil to reach Hispanics in the community: speak Spanish, play soccer and love people.
"He came to realize it was much more than that," Schlak said. "To speak Spanish is to do more than learn a language. You have to learn about the people, the culture. Hispanics come in many different flavors, national origins, situations."
Schlak said Voss also learned that the phrase "play soccer" meant to meet people where they gather and to find common interests.
"Don't think they will come to church on their own," he said. "Go out into the community and see what you can plug into. To love people is to get to know people and show them the love of Christ."
Another keynote presenter was Dr. Daniel A. Rodriguez, professor of Religion and Hispanic Studies at Pepperdine University, Malibu, Calif., and author of A Future for the Latino Church: Models for Multilingual, Multigenerational Hispanic Congregations.
Rodriguez addressed ways to reach second- and third-generation Hispanics who may not speak Spanish but who are still very much a part of the Hispanic culture.
"Just like our work here should be, our journey ends in a multi-ethnic, multi-cultural throng in heaven," Rodriguez said, according to a conference release.
Schlak said the needs of first-generation Hispanics can be far different from those of their children and grandchildren.
"You end up with a deep need for an English ministry with a Latino flavor," Schlak said. "The second generation can be bridges to the different cultures. They live 'in the hyphen' between the generations."
Other speakers included the Rev. Dr. Carlos Hernandez, director of LCMS Church and Community Engagement; the Rev. Allen D. Anderson, president of the LCMS Rocky Mountain District; and the Rev. Dr. Leopoldo Sánchez, director of the Center for Hispanic Studies at Concordia Seminary, St. Louis.
Hernandez said he was struck by Rodriguez's encouragement of congregations to reach out to second- and third-generation Hispanics by using English while also retaining the Latino culture.
"It got the participants thinking about the greater use of English in our various LCMS conferences and in the training of our Latino church workers," Hernandez said. "Oh yes, it was a bomb that got us rethinking a lot about our Latino-ministries strategies and practices."
The conference's plenary sessions were in English but simultaneous Spanish translation was offered via headphones. The conference included small-group discussions and a Reformation worship service.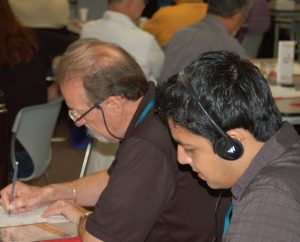 Schlak said in addition to participants learning of practical ways to start or enhance their Hispanic ministry outreach, they also gained an extended network of people for help and support during the conference.
He encouraged all LCMS congregations to get involved in reaching out to Hispanics in their communities and noted that LCMS congregations are 96 percent Caucasian "in a country that is definitely not."
"I think a lot of Anglo leaders are a little afraid of Hispanic ministry," Schlak said. "They're not sure how to do it. The unknown is sometimes very scary. But if we can break down some of our stereotypes and barriers and get to know our Hispanic neighbors, we'll find something quite different.
"It's imperative that we get busy and reach out with Christ's love."
Schlak said conference organizers are prayerfully considering whether to make the gathering a triennial event.
For those interested, a "Hispanic Ministry for Beginners Handbook" and catechism resources are available for free on the LHMI website at www.missionaryinstitute.org. Resources and videos from the conference also will be added to the website soon.
Melanie Ave is senior writer and social media coordinator with LCMS Communications.