Dr. Kurt Senske, chief executive officer of Lutheran Social Services of the South Inc. in Austin, Texas, has received the "Outstanding Executive Award" from the Association of Lutheran Development Executives (ALDE). The award was pr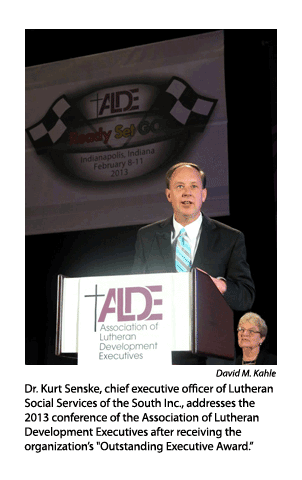 esented to Senske during ALDE's International Educational Conference, Feb. 8-11 in Indianapolis.

ALDE is a resource for Lutheran and other Christian fundraising and communications professionals. The award "honors the CEO or president who serves the Lutheran church through deed and example." Attributes of the ALDE Outstanding Executive include "visionary and inspirational leadership, effectiveness in management and fundraising, boldness in proclaiming the importance of Christian stewardship through public speaking or writing, and commitment to the mission of the church beyond the sphere of his/her organization."

Lutheran Social Services of the South (LSS) is a multi-service, nonprofit social-service agency in Texas and Louisiana with an annual budget of $90 million. LSS provides foster care and adoption services through 15 offices, and operates two children's residential treatment centers, one emergency refugee children's shelter and five senior-living communities. It also provides emergency assistance in the Lubbock area, and help and support for hurricane and other disaster victims.

During his 15-year tenure as CEO at LSS, Senske has been credited with more than tripling the size of the 131-year-old agency. He led the growth of the agency to its current status as "the largest provider of children's services in Texas, broadened and diversified the senior-services portfolio, and guided the successful conclusion of thousands of claims made by Hurricane Katrina and Hurricane Ike victims while strengthening fiscal agency health and improving the quality of LSS programs," according to an LSS news release.

Senske, a member of the LCMS Board of Directors, is the author of three books — The Calling: Live a Life of Significance, Executive Values: A Christian Approach to Organizational Leadership and Personal Values: God's Game Plan For Life.
Posted Feb. 13, 2013