By Melanie Ave
The service at St. John's Lutheran Church in New Minden, Ill., ran a little late Sunday, Nov. 17, because of a Baptism. The building had only been empty about 10 or 15 minutes when Pastor Timothy Mueller said his cell phone rang out at the restaurant where many people had gone to celebrate the Baptism after the service.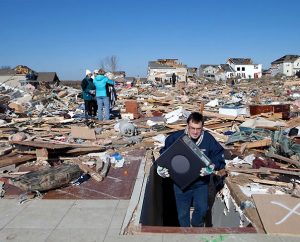 "The neighbor across the street wanted to know if I was OK," Mueller said. "It was hard to hear because of the bad reception, but I did hear something about the steeple."
When Mueller finally made his way to the church through a roundabout trek past debris-strewn streets draped with downed power lines, he saw the church's steeple and large bell on the ground. Much of the roof had been ripped from the sanctuary building.
St. John's — one of the charter congregations of the LCMS in 1847 — was one of two LCMS congregations severely damaged by the Nov. 17 storms that caused damage across Illinois, Missouri, Indiana, Michigan and Wisconsin. Six people died in Illinois and about 200 people were injured statewide. It was the third tornado to strike St. John's, which was hit by tornadoes in 1896 and 1907.
No LCMS members were injured by the multi-state storms, according to initial reports, but the homes of at least 17 Synod families sustained severe damage, including the homes of six St. John's families in New Minden, about 50 miles east of St. Louis. Tornadoes also struck northern Illinois. The homes of seven member families at Our Savior Lutheran Church in Washington, Ill.; two at Mount Calvary Lutheran Church and two at Redeemer Lutheran Church, both in Peoria, Ill., also were damaged. The homes of another two member families in the Kokomo, Ind., area also may have been damaged.
The Rev. Bart Day, executive director of the LCMS Office of National Mission, and the Rev. Dr. Carlos Hernandez, director of LCMS Church and Community Engagement, plan to visit the damaged areas this week and chart out the Synod's response to the storms.
The Rev. John Fale, associate executive director of LCMS Mercy Operations, said LCMS Disaster Response is helping St. John's in New Minden and Our Savior in Washington in "reaching out to their communities with compassion and care.
"I spoke with Pastor Mueller this morning," Fale said. "He indicates that he and Southern Illinois District disaster-response coordinators, the Rev. Bill Engfehr and Matt Beirman, are helping him get his head around what has happened."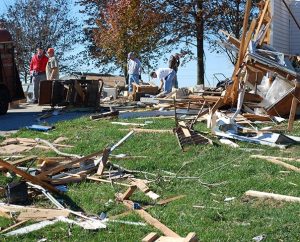 Mueller said the homes of 10 families in the small farming community of New Minden were severely damaged. Two elderly people who lived near the church died. The congregation plans to reach out to their relatives, whose nearby mobile home also was destroyed.
Fale said the LCMS is helping St. John's obtain 30 days of temporary housing for the family "so they have some time to grieve and to make plans for permanent housing."
"We have so much to be thankful for," said Mueller, the brother of LCMS First Vice-President Rev. Dr. Herbert C. Mueller Jr. "So many things could have been much worse."
Mueller said he gives thanks for the Lord's protection. He asked for prayers of discernment for his church members and the decisions that must now be made because of the significant damage to the church.
"To rebuild a historic building can be done but it's very expensive," he said. "I keep thinking of the hymn, 'Built on the Rock.' Our rock is Jesus Christ. He'll see us through."
The tornado also damaged the church's original building, which had been moved to a new location on the congregation's 40-acre property Friday so it could be converted to a memorial chapel. St. John's was established in 1846. Workers were scheduled to lay blocks for a new foundation on Monday.
"Today," Mueller said, "it's a heap of rubble."
While St. John's determines its future, the congregation will meet in an undamaged school building on the southern end of the church's property.
At Our Savior in Washington, the 11 a.m. Sunday service had just started when the tornado sirens sounded, said Pastor Thomas Heren. About 65 people calmly headed to the basement after Heren's invocation.
"We could hear the debris hitting above us," Heren said. "It was very loud."
The doors to the church's walkout basement were blown off. Windows were broken, the roof was damaged and cars in the parking lot were tossed around like toys. High winds swept away the garage where the church stored some of its equipment.
About two-thirds of the roof to the parsonage where Heren's family lives was ripped off.
"There is siding inside the church," said Tim Hetzner, president of Lutheran Church Charities (LCC) and district response coordinator for the LCMS Northern Illinois District. "They're not sure how it got there. There's pretty extensive damage throughout the building."
Heren requested prayers.
Fale said the LCMS is working with the LCMS Central Illinois District and the LCC to secure housing for Heren and his family "so he and the members of Our Savior have some time to think through long-term housing matters for their pastor.
"Both Pastors Mueller and Heren immediately had the interests of their greater communities in mind," he said.
Fale said the LCMS has not missed a beat in responding to the tornadoes despite the fact that its primary disaster-response staff is in the Philippines helping the LCMS partner church respond to the Nov. 8 typhoon that killed thousands of people.
The Rev. Glenn Merritt, director of LCMS Disaster Response, "has developed an outstanding disaster-response preparedness plan with districts and congregations," Fale said. "The plan works. The district disaster-response coordinators stepped right in and are working with pastors and district staff to assess and provide guidance on the ground.
"Lutheran Church Charities has also been a valued partner in these kinds of circumstances for years," Fale added. "I am thankful for the great cooperation and collaboration that has been demonstrated as we work together to bring God's mercy to all who are affected, through witness to the comfort and consolation of Jesus and through tangible expressions of relief and care."
At Mount Calvary, Pastor Barry Long said two of his church families suffered major damage to their homes.
"One is completely gone," Long said. "Another one, I don't have the full picture yet, but it's missing exterior walls."
Long said the congregation is still gathering information to determine what the families need.
At Redeemer, the Rev. Dr. Joe Meyer said two of his members' homes were damaged.
"One member's home was wiped clean off its foundation," Meyer said. "Another member, about a third of their home is destroyed. I have a feeling they're going to have to tear it down."
To see pictures from the storms, click here.
To make a gift in support of LCMS Disaster Response:
Mail checks payable to "The Lutheran Church—Missouri Synod" (with a memo line or note designating "LCMS Disaster Relief" or "Tornado Relief") to The Lutheran Church—Missouri Synod, P.O. Box 66861, St. Louis, MO 63166-6861.
Call toll-free 888-930-4438 (8:10 a.m. to 4:10 p.m. Central Time, Monday through Friday).
Melanie Ave is senior writer and social media coordinator for LCMS Communications.