By Kim Plummer Krull
ST. LOUIS (July 24, 2013) – "Even my family is treating me as a nasty stranger," says a young Iraqi man in a letter to "The Lutheran Hour," telling how he regularly tunes into the radio program in his Islamic city and writes "in the hope of receiving . . . what could comfort my solitude and strengthen my faith."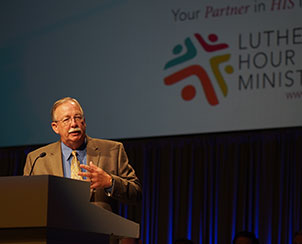 "I don't need to tell you we did write him back," said Bruce Wurdeman, executive director of the St. Louis-based Lutheran Hour Ministries (LHM), after reading the letter this morning as part of his greeting to the LCMS convention here.
That Iraqi man hears the Gospel message broadcast from LHM's Lebanon office, which "is penetrating that Islamic curtain," reaching into 10 Arab-speaking, mostly Islamic Middle Eastern countries, including "places where our missionaries can't, won't and don't go," Wurdeman said.
While some 800,000 people sit in LCMS pews in the U.S. on a typical Sunday morning, ratings show that some 800,000 tune into the Gospel message on "The Lutheran Hour," Wurdeman said. "About half those folks who listen on Sunday morning are Lutheran, but about half aren't," he added.
Last year alone, 43,123 people worldwide responded to an LHM ministry center or Bible correspondence course, ultimately confessing their faith in Jesus and connecting with a church home, Wurdeman said, drawing hearty applause.
The executive director told of plans the LCMS auxiliary has in the works, including:
Longer-term outreach working "hand in glove" with LCMS districts to reach more people in the U.S.
A new Spanish-language radio program
Stronger emphasis on urban outreach
Ministry in unreached parts of the world, to youth and young adults worldwide
Wurdeman also announced what was news to at least some – that LHM has extended a call to Kurt Buchholz to step into the executive director's shoes when Wurdeman retires at the end of this year.
"I am confident and hopeful that he will say yes in the next couple of days," said Wurdeman, who previously announced his plan to retire at the end of this year after serving in his current position since 2009.
Buchholz, of Glen Arm, Md., now serves as board chairman of the International Lutheran Laymen's League, LHM's governing body. Wurdeman said he expects to work through the end of the year on a transition with Buchholz, a former LCMS World Mission executive and missionary in Taiwan.
While his future includes golf and fishing in Texas, Wurdeman, who drew a standing ovation at the close of his remarks, said he will continue to pray "not that God would bless what LHM is doing, but I pray that LHM would be doing what God wants to bless."
The 65th Regular Convention of the LCMS is meeting July 20-25 at the America's Center Convention Complex under the theme "Baptized for This Moment." Among convention participants are some 1,200 clergy and lay voting delegates.