The LCMS Commission on Handbook recently completed a revision of the Synod's 2013 Handbook that is now available for download.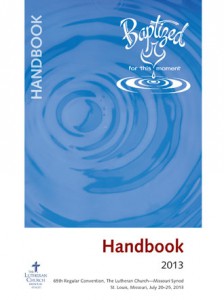 That version revises the edition of the 2013 Handbook that has been available since early 2014 in both printed and electronic PDF formats. The revised version will not be available in printed format.
The Handbook contains the Synod's Constitution, Bylaws and Articles of Incorporation.
The revision removes unnecessary footnotes and incorporates corrections and editorial changes — making it the most up-to- date and authoritative version of the Handbook.
This new electronic Microsoft Word version is conducive to cutting and pasting paragraphs or larger portions without disturbing its formatting.
To download the revised version of the 2013 LCMS Handbook, visit lcms.org/handbook, lcms.org/bod or lcms.org/ccm.
Posted Sept. 10, 2014