By Adriane Heins
At the close of the July 2013 65th Regular Convention of The Lutheran Church—Missouri Synod, when the last delegate had left the hall and all of the copies of "Today's Business" were packed away in briefcases for the trip home, 95 resolutions had been passed. To bring delegates, laypeople and clergy up to date on the progress made on those resolutions in the past year, a 2013 Convention Resolution Update is now available.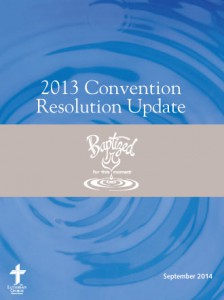 The update — focusing mainly on those resolutions that require specific, ongoing action — outlines individual resolutions, the work made toward completing them, additional reporting by LCMS Communications on the subject matter, as well as a quote from someone who has been affected by or is working to complete a resolution's requirements.
"I've witnessed great progress on many fronts: from recruiting missionaries to supporting the work of LCMS campus ministries, from celebrating the upcoming anniversary of the Reformation to the Koinonia Project," LCMS President Rev. Dr. Matthew C. Harrison explained in the update's introduction. "But it's important for you to know and learn about this progress too."
"One year and one month ago, we reminded each other that we are 'Baptized for This Moment,'" he wrote. "And indeed we are. It's my prayer that you'll see — within these pages — how our Lord has in fact baptized us for this moment, how He is at work through our Synod in service to the Gospel, one another and to our neighbor."
Click here to download the report.
Adriane Heins is managing editor of The Lutheran Witness.
Posted Sept. 10, 2014