Lutherans interested and involved in black ministry are invited to attend the Black Ministry Family Convocation, July 9-13 in Kansas City, Mo. The event's theme, based on Rom. 10:8-13, is "Worship, Word, Witness."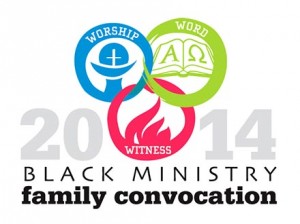 The convocation, held every two years, includes worship, Bible study, workshops, plenary speakers, fellowship opportunities and business sessions. This year's event is sponsored by the Synod's Office of National Mission (ONM).
Keynote speaker will be the Rev. Roosevelt Gray Jr., director of LCMS Black Ministry, who will address his vision for the future of black ministry in the Synod.
"Our 2014 Black Ministry Family Convocation theme, 'Worship, Word, Witness,' tells the story of who we are as LCMS Christians: God's people who gather in worship, centered on His Word, which witnesses to us of His love for us through His Son, our Savior," Gray told Reporter. "We are empowered — as we leave the worship service with the Word in our hearts — to witness to our family, friends and neighbor the Gospel that changed us into the image of His Son, and has the power to change them and the world as well.
"This is our vision, challenge and passion for the 21st century as we remain faithful to our Savior's command to disciple all nations."
Other plenary presenters include:
the Rev. Bart Day, executive director of the ONM, who will talk about the vision for black ministry from a national mission perspective.
the Rev. Gregory Seltz, speaker of "The Lutheran Hour," whose topic, "Can I Get a Witness?," will explore "being who we are as God's people so that the world may know Him, too."
Workshops will be offered on Rebecca's Garden of Hope, an education ministry for at-risk children; how to engage congregations in ministry; music ministry; praise dance in worship for adults; urban-ministry teams; serving older adults; identity theft; and school ministry for the 21st century.
Additional workshops that focus on witnessing will be offered in four tracks: reaching out to families and family members, pop culture and engaging a non-Christian worldview, personal witnessing for beginners and witnessing with a congregational focus (for pastors and lay leaders).
Separate convocation programs will be available for children and teenagers.
Adult registration is $140 through April 15, or $160 after that date, and includes a banquet and ice-cream social. Registration for children ages 5 to 11 is $60 and for teens ages 12 to 17 is $75.
Lodging at the convocation hotel, the Sheraton Kansas City Hotel at Crown Center, is $99 per night, plus tax. Please call the hotel at 816-841-1000 to reserve a room before the May 27 deadline.
For more information or to register, click here.
Updated Feb. 27, 2014