Former LCMS Board of Directors member Edwin A. Trapp Jr. of Dallas died Feb. 12 after a long illness. He was 82 years old.
A memorial service was held Feb. 18 at Our Redeemer Lutheran Church in Dallas.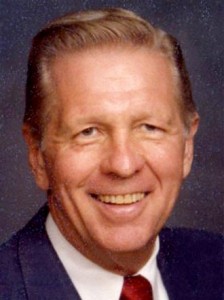 According to Trapp's obituary, he struggled for eight years with Corticobasal Degeneration, a rare and progressive neurological disorder.
The obituary names no survivors.
For many years, Trapp served as a lay member of the LCMS Board of Directors and the former LCMS Board for Human Care Ministries. He previously served on the boards of the LCMS Texas District (including the district's board of directors) and Lutheran Social Services of the South. He also served for six years as chairman of the President's Advisory Council at Concordia Theological Seminary, Fort Wayne, Ind.
LCMS President Rev. Dr. Matthew C. Harrison sent a letter that was read at the memorial service. The letter expressed thanks to God for Trapp and his service.
"He had been a fixture in the life of the LCMS for decades," Harrison wrote. "I remember most his work for the seminary and his time on the LCMS Board of Directors. Ed's generous service and gifts to LCMS World Relief and Human Care were crucial in enhancing that ministry's trajectory of excellence and service.
"But his love for his Savior drove him to a life of service and generosity in many other ways."
A native of Chicago, Trapp attended Monmouth College in Illinois, later graduating from the University of Wisconsin in 1953, followed by study at Stanford University. He graduated from the two-year UCLA Anderson School of Management Executive Program in 1968.
Trapp later became a trustee emeritus at Monmouth after serving 21 years on the Monmouth College Board of Trustees. He founded the college's Trapp Chair of Business Management in 1984 and received an honorary law degree from Monmouth in 1989.
He served for 17 years in sales and marketing management with General Electric, Motorola and DuCommun.
In 1970, Trapp moved to Dallas as the president and a director of Hall-Mark Electronics Corp. During his 15-year tenure, he helped grow the small regional company into a national leader of electronic component distribution. Tyler Corp. acquired the company in 1981 and Trapp retired in 1985 to focus on lay leadership in the LCMS and to travel.
Throughout his life, Trapp traveled to all seven continents, more than 140 nations and all 50 United States.
Trapp was an active member of Our Redeemer Lutheran in Dallas, where he served as president, elders chairman, on the church council, and as a Bible-study leader and choir member.
For nine years beginning in 1987, he served on the LCMS Board for Human Care Ministries — six of them as its chairman.
Trapp was first elected to the LCMS Board of Directors in 1995, serving 12 years.
He was involved in several major capital campaigns with Lutheran Social Services of the South (LSS), Disciples of the Way Ministries and Dallas Lutheran School.
In 1992, LSS created the Edwin A. Trapp Jr. Social Ministry Leadership Award in recognition of his work on behalf of children and adults in need. In 1988, Trapp received the Miles Christi (Soldier of Christ) Award from Concordia Theological Seminary.
In 1999, he received the "Seeds of Hope Award" from Wheat Ridge Ministries in Itasca, Ill., for his "commitment in sharing health and hope in the name of the healing Christ among God's people."
At the time, Dr. Richard Bimler, then president of Wheat Ridge, said: "At the heart of Dr. Trapp's life is a spirit of love and compassion for all of God's people — no matter their circumstances in life."
Memorials may be made to Lutheran Social Services, Disciples of the Way Ministries or Dallas Lutheran School.