By Paula Schlueter Ross
Faculty, staff, students and special guests of Concordia International School Hanoi (CISH) celebrated the start of the first phase of construction for the school's permanent campus March 26 in north Hanoi, Vietnam.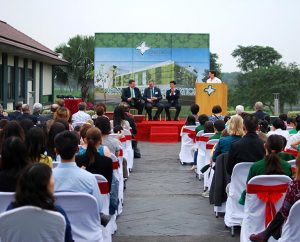 CISH — the newest of the Synod's highly-regarded international schools — has been located in rented quarters since it opened in August 2011 with 42 students in preschool through Grade 7.
A total of 148 students are currently enrolled in preschool through Grade 9, and enrollment for the 2014-15 school year is expected to reach nearly 200.
With a $9 million loan from Lutheran Church Extension Fund, CISH purchased land rights to a 6.5-acre site, where over the next 10 years it will build facilities with 190,000 square feet of space that can accommodate 850 students in preschool through Grade 12.
Phase 1 of the three-phase project will include a new gym, classrooms, science labs, art and music spaces, cafeteria and student-support areas as well as athletic fields and playgrounds. It is expected to be completed in early 2016.
Head of School Steven R. Winkelman told Reporter "the new campus is an important next step in Concordia's development" and "will allow Concordia to improve the educational experiences of our students, allow the school to better meet the needs of the families and students, and dramatically increase the number of families that our school serves each day."
Winkelman added that the school "is a great example of the commitment and partnership of the LCMS and LCEF in reaching those in need throughout the world.
"With the support and assistance of Concordia International School Shanghai, Hong Kong International School and our LCMS schools in the United States, Concordia Hanoi is becoming the school of choice in Vietnam."
LCEF President and CEO Rich Robertson, who attended the Phase 1 kickoff celebration in Hanoi, said, "It was a privilege to be a part of such a historical event. I am grateful that Lutheran Church Extension Fund was able to provide resources in support of the construction of Concordia International School Hanoi's new campus. We are indeed blessed to be a part of the school's continued growth and success. LCEF has a long history of walking with the Concordia schools in the Pacific Rim as they answer God's calling."
Also attending the March 26 event was LCMS Chief Mission Officer Rev. Gregory K. Williamson, who told Reporter he considered the experience "a distinct privilege and honor."
Williamson said the event "marked a significant ministry milestone for the LCMS as opportunities emerge for more engagement within countries that have often been skeptical of — or closed to — Christian outreach and ministry."
He encouraged LCMS congregations to "keep our teachers, both at home and abroad, in your prayers and meditations. These men and women play a critical role in the spiritual development of the church of the next generation, and their teaching ministries will produce harvest for many years to come.
"May God grant the LCMS new opportunities to teach the faith to young people throughout the world."
For more information about Concordia International School Hanoi, visit concordiahanoi.org.
Posted April 15, 2014