By Kim Plummer Krull
Rich Husfeld retired after working in the grocery business for 47 years. But instead of putting up his feet, he's putting up studs in Albuquerque, N.M., for Christ Lutheran Church as the congregation expands its Christian day school.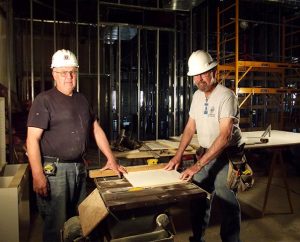 "I've always enjoyed building things," said Husfeld, 65, of Katy, Texas.
But that's not the main reason Husfeld and his wife, Linda, joined Lutheran Church Extension Fund's Laborers For Christ, the ministry Christ Lutheran is participating in to add the school's needed classrooms.
"I like the satisfaction of a job well done — that's done well for some kind of church facility and for the glory of God," said Husfeld, who is serving as project manager for Christ Lutheran Church.
The Albuquerque expansion is one of 20 projects the Husfelds and fellow Laborers are scheduled to tackle this year as they work for LCMS congregations, schools and Recognized Service Organizations (RSOs), helping build within budgets and strengthen ministry.
That number of projects is an increase over recent years, and more Laborers are "urgently needed" to keep up with the demand, says Marcy Scholl, Laborers For Christ specialist.
The organization is looking for "men and women who enjoy traveling, making new friends and have a passion to reach out and witness of Christ's love and grace in congregations and communities," Scholl said of Laborers For Christ.
"As a valued member of Christ's family, you have real-life experiences and skills that can help others further God's kingdom," Scholl said. "If you are in retirement — but not retired — you may find Laborers For Christ the perfect outlet for your restless hand and open heart."
Projects needing Laborers are all over the map, from Florida to Oregon. They include:
Lutheran Social Services of Southern California as the RSO renovates its Community Care Center in Pasadena.
Mount Hope Lutheran Church, Bloomington, Minn., as the congregation remodels and builds an addition to their sanctuary.
Haskell Light Indian Nations University, Lawrence, Kan., as the RSO builds a new fellowship facility for students.
Zion Lutheran Church, Stillwater, Okla., as the congregation builds a new multipurpose building.
Immanuel Lutheran Church, Alliance, Neb., as the congregation renovates a commercial building into a school.
Emmanuel Lutheran Church, Fort Wayne, Ind., as the congregation partners with LCMS National Housing Support Corporation to renovate homes.
Trinity Lutheran Church, Portland, Ore., as the congregation updates and remodels to improve energy efficiency.
Holy Trinity Lutheran Church, Riverton, Utah, as the congregation builds a new sanctuary.
St. John Lutheran Church, Seward, Neb., as the congregation builds a childcare facility.
Bella Vista Lutheran Church, Bella Vista, Ark., as the congregation adds fellowship space.
Trinity Lutheran Church, Orlando, Fla., as the congregation renovates historical houses.
For the complete project list, click here.
Expertise not mandatory
Many are surprised to learn that construction experience is not a Laborers' requirement.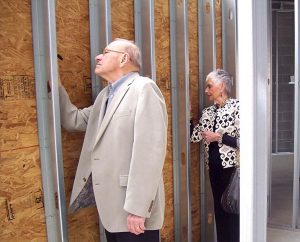 While such expertise is "definitely helpful," Husfeld says the only must is "to enjoy working with fellow Christians on projects for the glory of God."
"Even if you've never done something before, that doesn't mean you can't learn," said Husfeld, whose fellow Laborers in Albuquerque include a retired electrician, plumber and truck driver.
Farmers, former military personnel, pastors and teachers also are Laborers.
Along with serving the Lord, the opportunities to travel and build lasting friendships are the rewards most often cited by Laborers.
"We have so many good friends we keep in touch with," said Judie Rick who, with her husband, Fred, has worked for congregations on at least 18 projects in some 10 different states. The Ricks joined Laborers in 1998, selling their New Mexico home and buying an RV.
While serving on a project, Laborers live in their "fifth wheels," parked on or near a church campus. They work alongside congregation volunteers on the construction site and worship together.
In Albuquerque, Rich and Linda Husfeld sing in the choir at Christ Lutheran Church. A former teacher, Linda volunteers at the church's school and stitches with the congregation quilting group.
Whether or not they strap on a tool belt, Laborer wives are involved. At Shepherd of the Hills Lutheran Church in Crossville, Tenn., Nancy Terrill and other wives take part in the congregation's Bible studies, LWML group and fellowship activities.
At the recent "holy graffiti" Sunday at Shepherd of the Hills, the wives joined Laborers in hosting a lunch for congregants, followed by a popular Laborers tradition — the opportunity for church families to sign their favorite Bible verses on the interior studs of the addition that Laborers, working for the church, are building.
"We're like members of the congregation," said Terrill, who, with her husband, Bill, has been serving with Laborers in Crossville since October. "We've made a lot of friends — just like we always do."
Energizing spiritual renewal
Laborers For Christ began in 1980 as a ministry in the LCMS Rocky Mountain District to help mission congregations build their first permanent churches.
Today, as an LCEF ministry, Laborers are employed by congregations, schools and RSOs as the ministries construct, expand and update to improve energy efficiency.
Beyond sharing their construction expertise, pastors and congregation leaders praise how Laborers can energize a congregation with spiritual renewal.
"A blessing" is how the Rev. David Lampman described Laborers soon after they began working for Shepherd of the Hills in Crossville.
"Every single one of them fits in so well. They don't try and take over but are so comfortable with us – and we're so comfortable with them," Lampman said of Laborers when they began working for the church last fall. "Instead of people staying away [during the construction], [Laborers] are bringing them in."
After they retired, longtime Lutheran educators Margie and Tom Weiss joined Laborers For Christ in 2007. Margie doesn't think twice when the couple is asked why they leave their Ellenton, Fla., home to live in their motorhome and work for a Lutheran ministry.
"We work with the most dedicated Christian people you can imagine. We socialize and have devotions together," Margie said.
Laborers For Christ, she adds, is "a little taste of heaven."
To learn more about becoming an active Laborer, visit lcef.org, call LCEF at 800-854-4004, ext. 6441, or email laborers@lcef.org. An application to become a Laborer For Christ is on the LCEF website.
Kim Plummer Krull is a freelance writer and a member of St. Paul's Lutheran Church, Des Peres, Mo.
Posted April 15, 2014