The 2013-14 Resource Catalog is still available free from Concordia Publishing House in St. Louis.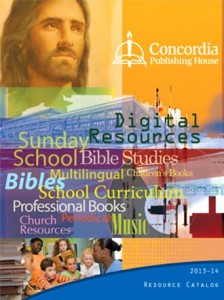 The 187-page catalog features color photos, descriptions and prices for hundreds of items, including books, Bibles, church software, educational materials, hymnals and hymn recordings, church supplies and worship resources.
In a message on the catalog's inside cover, CPH President and Chief Executive Officer Dr. Bruce G. Kintz writes, "CPH continues to be on the cutting edge, developing new and relevant resources for you.
"In fact, CPH offers over 8,000 products for church, home and school, including a wide range of downloadable products and e-books on Amazon's Kindle. With each resource, whether digital or print, our goal remains the same — to provide relevant products that are faithful to the Scriptures and the Lutheran Confessions, all to the glory of God."
To order a free catalog (item no. 757421WEB, no charge for shipping), call 800-325-3040 or click here.