By Paula Schlueter Ross (paula.ross@lcms.org)

Maintaining a Christian presence on college campuses is important, says the Rev. Jay Winters, but perhaps never more so than in the face of a tragedy like the shooting that injured three people in the early-morning hours of Nov. 20 at Florida State University (FSU) in Tallahassee.
The gunman, lawyer and FSU alumnus Myron May, was fatally shot by police during the attack in the school's Strozier Library a week before Thanksgiving.
At least two of the 400 or so students who were in the library during the shooting attend University Lutheran Church and Student Center on the FSU campus, where Winters serves as pastor. Both young women were able to escape the library without injury, according to Winters, who spoke with them later that day as well as with dozens of other students who were "pretty shaken up."
There was "a sense of impending mortality that a lot of college students don't normally have to deal with, especially while they're here on campus," he explained.
At this writing, some three weeks after the shooting, "the two students who were in the building that night have made peace with it and are moving forward, especially after getting a few extra hugs from family members at Thanksgiving," he told Reporter.
Another student "has become more connected" to the LCMS campus ministry as a result of the assault, Winters said. "The day after the shooting, I saw him on campus and he came up and said, 'I realize again how important this [campus ministry] is.'
"Since then, he has been super-involved and he is catching up so that he can be a part of more of the opportunities at University Lutheran this spring semester."
Even though classes were cancelled after the incident, some 15 to 20 people, mostly students, attended a candlelight prayer service at University Lutheran Church within 24 hours of the shooting. It was, said the pastor, "an opportunity for us to hear Scripture, sing some songs together" and "pray," and was "absolutely" appreciated by the students.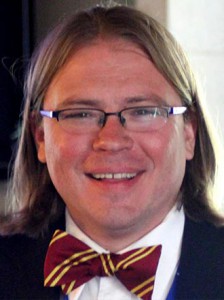 "I think it gave them an opportunity to stop and reflect on the day's events," he said. "The presence of God is around us all the time, but there's something special about gathering together with your fellow Christians that you normally go to church with, and knowing God is there, and that your fellow Christians are there, and that you're all going to Him at the same time, unified in the spirit."
On Nov. 23, the first Sunday after the shooting, Winters distributed after worship at University Lutheran 35 copies of the devotional booklet Where Is God Now? that were provided by LCMS Disaster Response. The pocket-sized Portals of Prayer resource includes 60 devotions written especially for those who are suffering after tragic events.
"We made sure that every student [who attended] got two copies: one for themselves and one that they could give to a friend," said Winters. "We really see this as an opportunity for our students to reach out with the peace that they have in Christ to those on our campus who don't necessarily know Christ and [don't have] that same kind of peace."
He said the ministry is considering ordering more of the devotionals to distribute on campus. Its student members also plan to hold a fundraiser, possibly in February or March, for Farhan "Ronny" Ahmed, the FSU student who was paralyzed in the shooting.
Winters asked LCMS congregation members to "definitely continue to pray for healing on the campus of Florida State University. Continue to pray that we can reach out as people of peace here and share what we've got."
He also encouraged parents whose children attend FSU — or other colleges and universities — to let LCMS campus pastors know how to reach them. That's important any time, but especially in times of tragedy, Winters underscored: "If we know your students are on campus, we can go and check up with them and make sure that they're OK. If we don't know that they're here, we can't do that."
To reach Winters at FSU, visit universitylutheranchurch.org.
To learn more about campus ministry — and find a local chapter — visit lcms.org/lcmsu.
Posted Dec. 15, 2014