Carrie Elizabeth Collins had a lifelong dream of becoming a medical missionary. And even though she was epileptic — and suffered "horrific" seizures while growing up, according to her mother, Carolyn Smith — she still managed to take part in three medical mission trips as a young adult.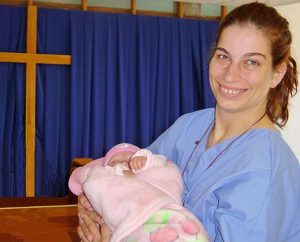 "She was absolutely elated" to assist the doctors and nurses on those trips to Mexico, Smith said. "She was thrilled with those opportunities."
Carrie was only 28 when she died of a seizure in 2008. And now Smith wants her only daughter's dream to become a reality for someone else.
So she's designated that her daughter's memorial fund be used to provide a $3,000 scholarship to enable a nursing student currently enrolled at a Concordia University to serve on an LCMS Mercy Medical Team (MMT).
Since 2006, MMTs have provided health care to more than 30,000 people in developing countries. The MMT program offers medical professionals, church workers and laypeople short-term opportunities to volunteer abroad in a variety of clinical and health-related settings.
Nursing students who serve on an MMT typically help with intake (vitals, weight, blood pressure, temperature, etc.), triage and pharmaceutical needs. Trips last from 7 to 10 days.
MMT members will be needed for March 13-22 in Madagascar, June 12-21 in Kenya and Oct. 9-18 in Madagascar, as well as other dates to be determined.
MMT participants are responsible for their own airfare and a "ground fee"; the typical cost is from $2,000 to $4,000 per person.
"Mercy Medical Teams serve as an opportunity for students to use their vocational skills and passion for service to demonstrate Christ's love and mercy in a positive way — an opportunity to serve as the hands and feet of Christ," said Tracy Quaethem, MMT project coordinator.
To request an application for the nursing-student scholarship, send an email to mercyteams@lcms.org. The application deadline is Dec. 30.
Posted Dec. 11, 2014