Addressing more than 200 guests at the May 2 kick-off event for Lutheran Bible Translators' (LBT) yearlong 50th anniversary celebration, the Rt. Rev. Dr. Paul Kofi Fynn emphasized the continuing need for mother-tongue Bible translation. Fynn, president of the Evangelical Lutheran Church of Ghana, noted that in his own West African country, only 10 of the 62 spoken languages currently have a Bible.
Fynn also expressed appreciation for LBT's 50 years of ministry, acknowledging that "LBT has completed 39 translations. That is almost one per year. That is remarkable!"
Those 39 translations — along with flags of the 18 countries where the translations were completed — were on display for guests to see prior to the anniversary dinner in Lisle, Ill. The books and flags were later carried into the banquet room by current and former missionaries and staff of LBT in a procession that was greeted with applause from guests.
According to LBT, an LCMS Recognized Service Organization, each book represents people who now have Scripture for the first time in their own language — a total of more than 8 million worldwide.
The Rev. Nathan Esala, an LBT missionary to Ghana who is now studying in the United States, also addressed the gathering. Esala worked closely with Fynn during his years as a translation adviser to the Komba New Testament translation project.
The first printed copies of the Komba New Testament arrived at LBT's offices in Aurora, Ill., just a few days before the anniversary dinner. Both Esala and Fynn gave thanks for the completion of the project and asked for prayers for the Komba people as they prepare to dedicate the book later this year in Ghana.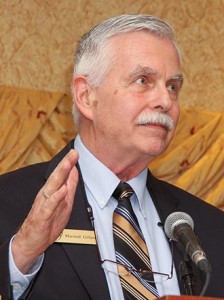 Dr. Michael Rodewald, who is ending his service as LCMS regional director for Africa to begin work June 1 as executive director of LBT, spoke of his nearly 30 years in Africa. He expressed appreciation for the accomplishments of LBT's 50 years, and said he anticipates God's blessings and guidance as the organization continues to make Scripture accessible to people in their "heart languages."
LBT's Lifetime Achievement Award was presented during the dinner event to Dr. Marshall Gillam, who retired from LBT Dec. 31, 2013, after serving as executive director for 14 years. Gillam currently chairs LBT's 50th Anniversary Committee.
Two other former directors — the Rev. Dr. Paul Muench and the Rev. Dr. Robert Roegner — also attended the dinner.
A second anniversary celebration dinner was held May 6 in Buena Park, Calif., and additional celebrations are planned throughout the year.
For more information about LBT and its 50th anniversary celebration, visit us.lbt.org or call 800-532-4253.
Posted May 16, 2014