The Ethnic Immigrant Institute of Theology at Concordia Seminary, St. Louis, is presenting a free lecture — "Responding to Islam: Major Theological Themes of Debate Between Islam and Christianity" — from 3:30 to 5:30 p.m. on Thursday, March 27.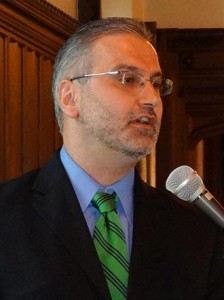 The lecture will take place in Werner Auditorium on the seminary campus.
The lecture "is a great opportunity for faculty, pastors, missionaries and seminarians to better understand Muslims' objections to Christianity," according to a seminary news release. "Having this understanding can be a powerful tool as they learn to share their faith in multiethnic communities."
The presenter will be the Rev. Dr. Abjar Bahkou, an LCMS pastor and adjunct professor of Arabic literature and language at the University of North Texas, Denton, and at Baylor University, Waco, Texas. He received his Ph.D. in 2008 in Islamic Studies from the Pontifical Institute of Arabic and Islamic Studies and his Ph.D. in Education in 1998 from Salesian Pontifical University — both in Rome, Italy.
Bahkou is fluent in Arabic, Syriac (Classical Aramaic), English, Italian, French and Hebrew (biblical). He is the author of numerous publications on Islamic and Christian studies.
For more information about the free lecture, call the seminary at 314-505-7076 or send an email to the Rev. Dr. John Loum at loumj@csl.edu.