Members of LCMS congregations are invited to join Synod President Rev. Dr. Matthew C. Harrison in a free webinar from 9 to 10 a.m. CST Thursday, Nov. 13.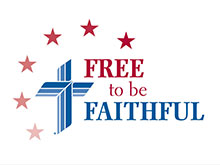 Harrison and participants will discuss the many controversial issues confronting Christians today, as well as offer thoughts on how Lutheran Christians can respond to the culture and world with grace and love, offering a compassionate message of hope for a fallen world and for each other.
The webinar is part of the Synod's "Free to Be Faithful" campaign, which seeks to raise awareness and to educate LCMS clergy and laypeople about marriage, life and religious liberty.
Harrison will discuss the Lutheran understanding of the two kingdoms and also will take questions from participants that focus on Free to Be Faithful's key themes: the changing definition of marriage, intrusions by the government in the realm of the church and confusion about the sanctity of human life.
Register online, by email or by calling 888-THE LCMS (843-5267). Spaces for live participation in the call and webinar are limited.
For those who are not able to participate in the live webinar, an archived version will be made available online shortly after the call at lcms.org/freetobefaithful.
Interested in learning more about the Synod's religious freedom efforts? Download the Winter 2014 Free to Be Faithful newsletter.
Posted Nov. 6, 2014