Longtime educator — and president of three LCMS colleges — Rev. Dr. Paul A. Zimmerman of Traverse City, Mich., died Jan. 28 after a brief illness. He was 95.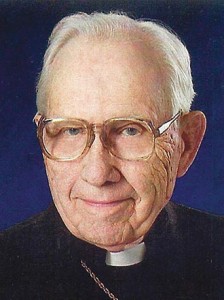 Visitation will be from 5 to 8 p.m. on Thursday, Jan. 30, at the Reynolds-Jonkhoff Funeral Home in Traverse City, and for an hour prior to the 11 a.m. funeral service on Friday, Jan. 31, at the Evangelical Lutheran Church of St. Michael and All Angels in Traverse City.
Zimmerman, a professor of religion and chemistry, also served as president of Concordia Teachers College (now Concordia University, Nebraska) in Seward, Neb. (1954-61); Concordia Junior College (now Concordia University), Ann Arbor, Mich. (1961-73); and Concordia Teachers College (now Concordia University Chicago), River Forest, Ill. (1973-83).
During his tenure at Concordia, Ann Arbor — where, as founding president, he was charged with the responsibility of building the campus, faculty and student body — Zimmerman served as chairman of the Fact Finding Committee (1970-73) appointed by then-LCMS President Rev. Dr. J.A.O. Preus. That committee was responsible for investigating charges of "false teaching" at Concordia Seminary, St. Louis, at that time.
Zimmerman served as a special assistant to LCMS President Rev. Dr. A.L. Barry in 1995 and 1996, and was chairman of the Synod's mission board from 1982 to 1992. In an interview for The Lutheran Witness in 1989, Zimmerman said laypeople can support the Synod's mission three ways: "Number one is to be more aware in your heart about what Jesus wants you to do for the Great Commission. Number two is to pray. And number three is to work. And you can work [by] becoming an evangelist in your own community or supporting financially the mission work of the Synod." But, he added, "If you don't do number one, you won't do number two or three."
His 40 years of service to the church included an early call to Bethany Lutheran College in Mankato, Minn., where he was a professor and served as dean of students.
Zimmerman served part time during his educational career as pastor of Trinity Lutheran Church, Janesville, Minn.; St. John Lutheran Church, Seward, Neb.; and, after his 1983 retirement, at St. Luke Lutheran Church, Harrison, Mich. After relocating to Traverse City, he continued to serve vacancies, when needed, at local congregations.
He also served on LCMS convention floor committees, as a convention essayist, a conference presenter and a consultant on education and accreditation issues. An editor and author, he frequently wrote devotions for Portals of Prayer — his final set of devotions is scheduled for publication later this year.
Zimmerman was a 1944 graduate of Concordia Seminary, St. Louis, and held a master's degree in education as well as a doctorate in chemistry — both from the University of Illinois, Urbana.
He also was the recipient of two honorary degrees — a Doctor of Divinity from Concordia Theological Seminary, then in Springfield, Ill., in 1975 and a Doctor of Laws from Concordia College (now University), Ann Arbor, Mich., in 1993 — and two awards: the Christus Primus from Concordia, Ann Arbor, and the "Distinguished Alumnus" from Concordia Seminary.
Zimmerman "was a really wonderful brother in Christ, had a great faith and supported the church of Jesus Christ," said the Rev. James Nihiser, pastor of St. Michael, Zimmerman's congregation in Traverse City. Nihiser told Reporter that while visiting Zimmerman a couple weeks before his death, the elder pastor "offered some real nice personal words of support for me in my office as pastor. He was just someone who really loved the Lord — and he lived that out, too."
Zimmerman, Nihiser added, "really was a giant in the history of the Missouri Synod" and "it's amazing" that "he ends up at this little church in Traverse City, and I end up having the privilege of knowing him. It's going to take all eternity to thank the Lord for that one."
Noting that Zimmerman "was our founding president at Concordia, Ann Arbor," Rev. Dr. Patrick Ferry said that as part of the recent 50th anniversary celebration of the school's beginning, "President Zimmerman reflected on the early days and rejoiced at Concordia's continued ministry in Lutheran higher education. We are grateful for the vision, courage and faith that he demonstrated for CUAA and throughout his ministry." Ferry is president of Concordia, Ann Arbor, and Concordia University Wisconsin, Mequon.
Zimmerman's family issued this statement: "Paul Zimmerman was a faithful and dedicated man of God. He fervently supported the spread of the Gospel and the education of the young through Lutheran education. He dedicated his life to serving His Lord Jesus Christ as a pastor, teacher, author and a faithful, ardent confessor of the Word of God. We in his family give thanks to the Lord … for the many things He permitted Paul to do in service to the LCMS, and most especially for having called Paul as His own in Holy Baptism. To God be the glory!"
Zimmerman's wife, Genevieve, died in 2010.
Survivors include two children — Karmin J. (Raymond) Philp of Traverse City and the Rev. Thomas P. (Marsha) Zimmerman of Fort Wayne, Ind.; five grandchildren — the Rev. Dr. Paul A. (Sharon) Philp of St. Louis; the Rev. Luke T. Zimmerman of Mechanicsburg (Pa.), Mark A. Zimmerman of New Glarus (Wis.), Kristin R. (Steven) Carroll of Motherwell (North Lanarkshire, Scotland) and John M. Zimmerman of Fort Wayne; and five great-grandchildren.
Memorials may be sent to the Synod's Global Mission Fund or to Concordia Theological Seminary, Fort Wayne.