Those who receive the print Reporter each month will see some big changes in the June issue of the Synod's official periodical.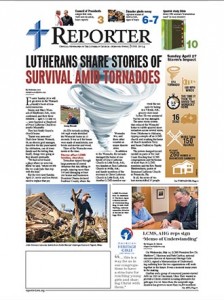 For one thing, there's more color. There are additional graphics and a more prominent use of photography, including photo essays. The look of our headlines has changed, as have our type fonts.
We haven't made any significant stylistic changes to the newspaper in nearly 25 years, so we thought the time had come to freshen things up — to get more in line with current journalistic trends.
This is not a sudden, end-all facelift; rather, it's a work in progress to give the publication a brighter, more colorful and vigorous look. We will continue tinkering as we go along, influenced in no small part by reader feedback.
And as for reader input, we plan to launch a survey down the line to determine your preferences and needs as to story content, including possible new features.
When it's all said and done, whatever changes finally are made, graphically and editorially, we can assure you that the integrity of reporting and caliber of writing you've come to expect from Reporter will stay the same. These things are the essence of this award-winning periodical, and they're not going anywhere.
— David Strand, executive director of LCMS Communications
Posted June 2, 2014