Materials designed to help LCMS schools celebrate "National Lutheran Schools Week" Jan. 26–Feb. 1 are available free online.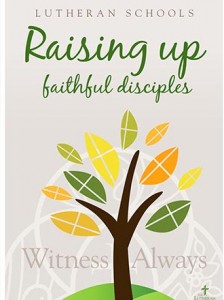 The theme for the 2014 observance is "Witness Always — Raising up faithful disciples," based on 1 John 5:7–8: "For there are three that testify: the Spirit and the water and the blood; and these three agree" (ESV).
The resources available this year include a poster, bulletin insert and resource manual. The manual offers suggestions for a chapel talk, faculty devotions and student Bible investigations, among other items. Through the daily Bible investigations, students search the Scriptures and interview key "eyewitnesses" to learn about the life, death, resurrection and ascension of Jesus. Suggestions for early-childhood options also are included.
The theme songs for the week are "Sharing the Caring Christ" by Lana Gibbons and "Rise, Shine, You People" (Lutheran Service Book 825).
"National Lutheran Schools Week provides our network of nearly 2,300 LCMS preschools, elementary schools and high schools with the public opportunity to proclaim and celebrate God's work among us in Lutheran schools," said Terry Schmidt, director of LCMS School Ministry.
"We thank God for the opportunity to provide excellent academic preparation for the children we serve. We are most grateful for the opportunity to share Jesus' amazing love with children and their families. National Lutheran Schools Week gives us an opportunity to proclaim these great blessings within the communities we serve," Schmidt said.
The National Lutheran Schools Week 2014 resources are available free of charge through the LCMS website, the LCMS online store and the Lutheran School Portal.