Ralph Simon was named vice-president of Investment Services with The Lutheran Church—Missouri Synod Foundation effective July 7.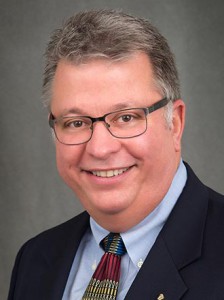 In the post, Simon is responsible for growing the Foundation's custodial account base and increasing the awareness and opportunities of the Foundation's investment services among LCMS congregations, colleges and universities, elementary and high schools, and other affiliated organizations.
In addition to investment services, Simon will assist with identifying planned-giving opportunities to promote ministry endowment-fund growth.
"This is a new position for the Foundation, and we're excited that Ralph has joined our investment team," said David Fiedler, president of the LCMS Foundation. "Ralph has successfully worked with LCMS organizations for years and has a vast network of professional church-worker contacts. By partnering with our churches and other LCMS ministries, he can help them manage and grow their resources for ministry through the investment services offered by the LCMS Foundation."
Since 2007, Simon has served as a benefit consultant for Concordia Plan Services, assisting LCMS employers and educating church workers about retirement planning and other related employee benefits. Prior to joining CPS he worked in financial services for Thrivent Financial, New York Life and MetLife as a registered investment advisor, and held four Financial Industry Regulatory Authority securities licenses.
Simon, a lifelong resident of St. Louis and fifth-generation Lutheran, is a member of historic Trinity Lutheran Church, where he serves as vice-president of the congregation.
Posted July 8, 2014 / Updated July 9, 2014