Daniel V. Speckhard of McLean, Va. — who has served in a number of high-level diplomatic roles — begins July 1 as the next president and chief executive officer of Lutheran World Relief (LWR), Baltimore.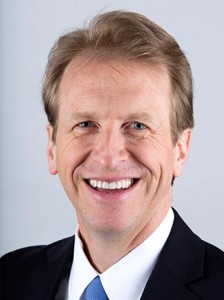 He was elected to the post at a special April 4 meeting of the LWR board of directors.
LWR is an independent international relief organization that receives support from The Lutheran Church—Missouri Synod and the Evangelical Lutheran Church in America (ELCA).
"I am humbled and honored to have the opportunity to come to Lutheran World Relief and can't wait to get started," Speckhard said.
He attends the Lutheran Church of the Redeemer, an ELCA congregation in McLean.
Currently a senior advisor at Palantir Technologies and a non-resident senior fellow at the Brookings Institution, Speckard has served as the U.S. ambassador to Greece (2007-10), deputy chief of mission at the U.S. Embassy in Baghdad (2006-07), director of the Iraq Reconstruction Management Office (2005-06), deputy assistant secretary general for political affairs at NATO (2000-05) and the U.S. ambassador to Belarus (1997-2000).
"Earlier in his career, he was an expert on foreign-assistance programs and the challenges facing countries in transition," according to the LWR news release about Speckhard's election. The release also points out that he speaks Russian and French and is a member of the Council on Foreign Relations and the Atlantic Council.
Speckhard earned master's degrees in economics (1983) and in public policy and administration (1982), and a bachelor's degree in economics (1980) — all from the University of Wisconsin—Madison.
"[LWR] is doing incredible work around the world to alleviate suffering and attack the root causes of poverty and it is inspiring to see how many Lutherans want to make a difference and are contributing to this great cause," Speckhard said.
"It is a privilege to welcome Daniel Speckhard as LWR's president and CEO," said Gloria Edwards, who chairs the LWR board. "He is a strong leader who has a deep passion for this work and a compelling vision for the future. The board looks forward to working with him to continue to grow the organization, connect with U.S. Lutherans and reach even more people in need." Edwards also is a member of the LCMS Board of Directors.
As LWR president and CEO, Speckhard succeeds the Rev. Dr. John Nunes, an LCMS pastor who served in that post from 2007 to 2013, when he announced his resignation to assume the Emil and Elfrieda Jochum Chair at Valparaiso University in Valparaiso, Ind. Jeff Whisenant, LWR's executive vice-president, has been LWR's interim president and CEO during the search for Nunes' successor. Speckhard will be the fifth president in LWR's 69-year history.
"We will miss John Nunes very much and thank God for his service," said LCMS President Rev. Dr. Matthew C. Harrison. "Now the board has chosen a man with a tremendous record of public service. It's clear LWR will continue to operate at a high level of expertise as it assists people toward self sufficiency in the most challenging areas of the world."
Posted April 17, 2014