Worldwide KFUO.org will hold its annual Sharathon fundraiser April 24-26 and the Synod's radio station is asking its donors for support over those three days. Sharathon programming will feature special guests as well as thank-you incentives that will be offered to those who support the Worldwide KFUO.org ministry.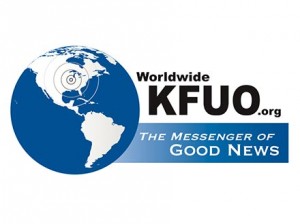 Guests will include LCMS First Vice-President Rev. Dr. Herbert C. Mueller Jr.; the Rev. Warren Woerth of Creation Club; Jane Wilke of Lutheran Senior Services; and Joan Voges and Dr. Paul Schreiber of Lilyfields.org.
Greetings will be shared by many other guests, including Tim Goeglein of Focus on the Family; Clinical Counselor Dr. Jack Fyans; the Rev. Dr. Robert H. Rahn, founder of the Lutheran Heritage Foundation; Tim Hetzner, president of Lutheran Church Charities; and the Rev. Dr. Andrew Bartelt, professor of Exegetical Theology and assistant for Accreditation at Concordia Seminary, St. Louis.
The Rev. Rodney E. Zwonitzer, director of Broadcast Services for KFUO Radio, told Reporter that donors "who invest in Sharathon 2014 build on the legacy of 90 years, allowing our expansion to new Christian generations globally with the Good News of Christ!
"As a thank you, participants will receive some truly unique and memorable incentives this year," Zwonitzer said.
Donors who give $1,200 or more to Worldwide KFUO.org will be offered a special poster from a painting by liturgical artist Kelly Schumacher. The poster depicts the "bride of Christ at the foot of the cross," according to Schumacher.
Donors also will receive additional premiums based on various giving levels: a KFUO long-sleeve shirt, a "Day Sponsorship to honor someone special in your life" and a KFUO T-shirt.
Gifts to Worldwide KFUO.org will be used to help the St. Louis-based radio station reach new audiences — such as younger listeners — and proclaim the Gospel worldwide.
Posted April 23, 2014 / Updated April 24, 2014